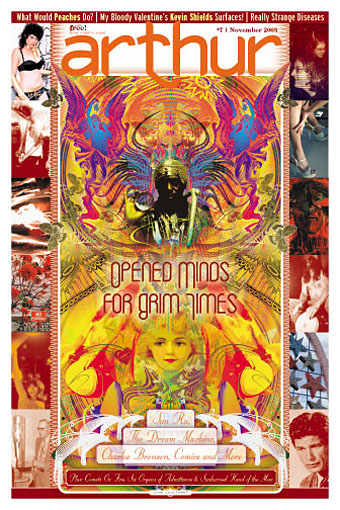 Own a copy of Arthur #7 (October 2003) with my swirling cover pic featuring cosmic jazz maestro Sun Ra. Lots of good stuff inside, details here.
• Spinetingler Magazine announced their nominees the 2010 Spinetingler Award this week. Jeff VanderMeer's Finch is one of the titles in the Best Novel category while my cover for Jeff's book is in the Best Cover category.
• A Journey Round My Skull posted the results of the Raymond Roussel illustration contest. Entrants were asked to read Roussel's story Bertha, The Child-Flower then create a picture based on that.
• Has Dottie got legs? The New Criterion on the poetry of Dorothy Parker.
• The gays: Fuck Yeah Hot Weird Guys, more from the Tumblr hall of mirrors; Simon Callow reviews Gay Icons Through the Ages by Tom Ambrose; Wessel + O'Connor Fine Art is open again with a new exhibition at a new location in Lambertville, NJ; some things never change: "Secret tape reveals Tory backing for ban on gays."
• "Make the inaccessible exciting." Colin Marshall interviews Chris Bohn, editor of music magazine The Wire.
• More music: Jon Savage's brief history of Krautrock. The new Soul Jazz compilation, Deutsche Elektronische Musik, is released next week.
• Sage of the Apocalypse; Samuel R Delany's Dhalgren comes to the stage in New York.
• Further Penguin fetishism: "Penguin Decades bring you the novels that helped shape modern Britain."
• Yes, they're out there, the Clients From Hell. For a palliative there's Herbert W Kapitzki's elegant poster designs from the 1960s.
• Song of the week: House of Glass (1967) by The Glass Family.