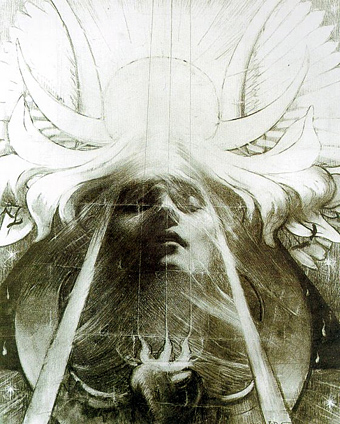 Parsifal by Jean Delville (1890).
Continuing the occasional series of posts examining the evolution of a particular design or image, this one begins with a mystical charcoal drawing by Belgian Symbolist, Jean Delville (1867–1953), our object of concern being that entranced or dreaming face.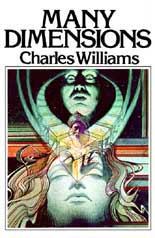 My first encounter with Delville's image wasn't via the original but came with this Seventies' version produced for a Charles Williams paperback cover by illustrator Jim Lamb. (And this copy is the only one I can find, reused on a recent audiobook of Williams' novel. If anyone has a link to a larger copy of the paperback cover then please post it in the comments.) Yes, this is tenuous but when I eventually got to see Delville's picture it made me think immediately of Lamb's illustration. Many Dimensions is one of my favourite books by Williams and unusually for him it deals with Islamic rather than Christian mysticism; in that case if Lamb was borrowing from Parsifal then it's a case of the right image for the wrong book.
Jim Lamb is another illustrator from this period who now works mainly as a landscape artist.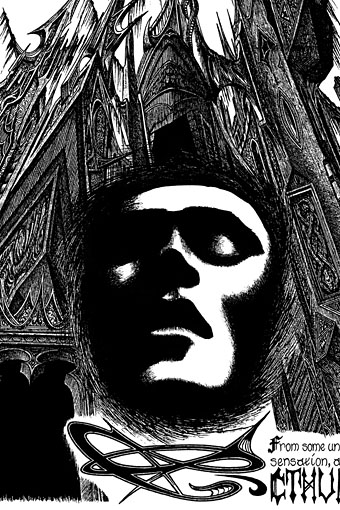 The Call of Cthulhu (1988).
In 1987 I plundered Delville myself for The Call of Cthulhu as a means of showing dreaming artist Henry Wilcox whose visions of R'lyeh are one of the key events in the story. The Symbolist reference also connects him to that school of art although the sole example I showed of his painting owed more to Max Ernst. This is just one of many examples of intertextuality (or outright thievery) in my Cthulhu adaptation. I suppose one day I ought to list the others.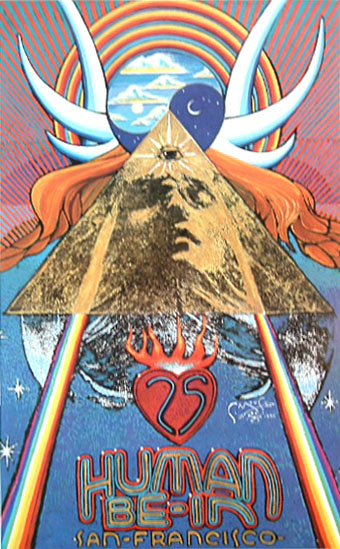 25th Human Be-In by Stanley Mouse (1991).
The inevitable psychedelic appropriation comes rather late with this poster by Stanley Mouse which not only lifts the face but reworks the whole drawing. I noted earlier Mouse's fondness for fin de siècle imagery so the use of Delville comes as no surprise; the psychedelic artists enjoyed borrowing Symbolist and Art Nouveau motifs. And I'm sure this isn't the last word on the use of Delville's Parsifal. If there are other examples out there, post a comment.
Update: Mike suggests the Barney Bubbles painting of Miss Stacia on the sleeve of Space Ritual by Hawkwind. Barney's Hawkwind art of this period owed a great deal to Alphonse Mucha but, given his considerable knowledge of art history, there could well be some Delville in there as well. So here it is.
Space Ritual (detail) by Barney Bubbles (1973).
Elsewhere on { feuilleton }
• The book covers archive
• The illustrators archive
Previously on { feuilleton }
• Willy Pogány's Parsifal
• William Rimmer's Evening Swan Song
• San Francisco angels