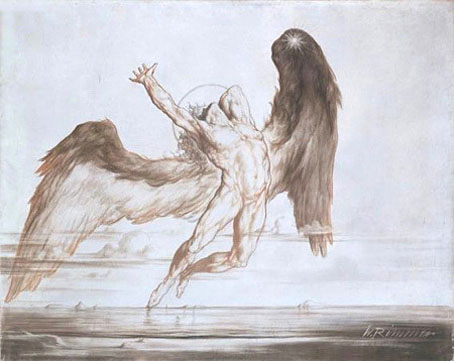 Evening: Fall of Day by William Rimmer (1869–70).
This curiously sexless figure is a good example of a work by an artist whose reputation may not have been as elevated as many of his contemporaries but who nonetheless created an image which speaks to future generations. Rimmer (1816–1879) was an American artist who produced a number of pictures along these pre-Symbolist lines. This particular drawing (a blend of crayon, oil and graphite on canvas) became hugely familiar in the Seventies when it was chosen by Led Zeppelin as the basis for their Swan Song label logo (below).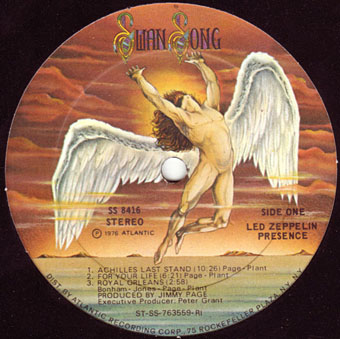 Swan Song was launched in 1974 with designers Hipgnosis handling the artwork. The reworking of Rimmer's picture was by Joe Petagno, an artist most associated these days with his many Motörhead cover designs. Seventies' rock has a well-deserved reputation for sexism but there was more of this kind of imagery around than you'd expect…or maybe it's just me noticing the naked men. Whatever the reason, shortly after Swan Song appeared you could see Rush's "Starman" logo, their Hemispheres album cover and also the cover of Going For The One by Yes (another Hipgnosis design).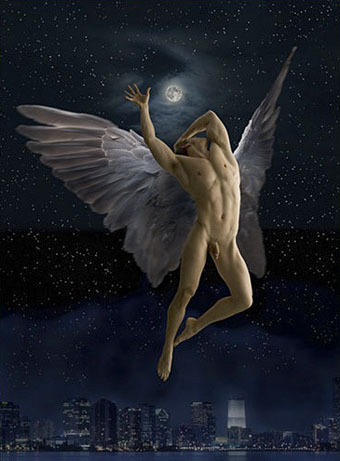 And so to the present with this updated version by photo artist David Vance. Vance has a number of creations along these lines in his "Spirit" series. Am I the only person who finds it ironic that it takes a homoerotic artist to give the figure a set of genitals and make this icon of rock finally look like a real man?
Elsewhere on { feuilleton }
• The gay artists archive
Previously on { feuilleton }
• Saint Sebastian in NYC