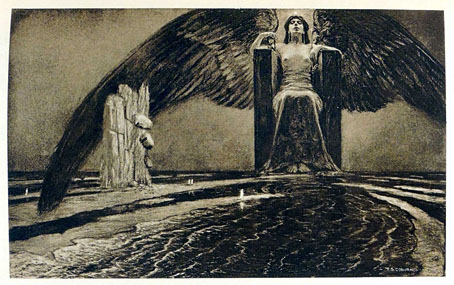 Dreamland by Frederick Simpson Coburn.
By a route obscure and lonely,
Haunted by ill angels only,
Where an Eidolon, named NIGHT,
On a black throne reigns upright,
I have reached these lands but newly
From an ultimate dim Thule—
From a wild weird clime that lieth, sublime,
Out of SPACE—Out of TIME.

Dreamland by Edgar Allan Poe
There's always more Poe. Frederick Simpson Coburn was a Canadian artist who illustrated a 10-volume set of Edgar Allan Poe's complete works in 1902, the collection being edited by Charles F. Richardson, and published in special editions with Poe-esque names such as "Arnheim" and "Eldorado". Coburn was more of a painter than an illustrator so his full-page pieces tend to be stolidly professional in a manner that doesn't really suit Poe's fervid imagination. One exception is his illustration for Dreamland (aka Dream-Land) which would be more impressive if it hadn't been so heavily "inspired" by a similar picture, The Black Idol or Resistance by František Kupka. Kupka's picture dates from 1903 so it might seem at first that any suggestion of creative purloining should be dismissed (or even reversed) unless you know that The Black Idol was a slightly reworked version of a similar piece which appeared in a French magazine, Cocorico, in December 1900.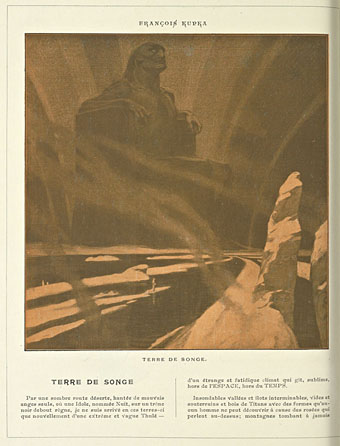 The suspicion of appropriation is reinforced if you also know that Kupka's earlier work was one of two Poe-derived pieces published in the same magazine, and was itself an illustration for Dreamland, with the first few lines of the poem in the Mallarmé translation being printed underneath the drawing. Coburn grew up in Quebec and moved to Paris in 1896 to study art; he was still there in 1900. Circumstantial evidence this may be but we don't need the services of Auguste Dupin to suppose that Coburn might have remembered an illustration from a French magazine when the Poe commission arrived a year or so later.
I'm not here to cast aspersions, the pressure of deadlines compelled me to swipe a chunk of Gustave Doré when I illustrated Poe myself a few years ago. I enjoy finding minor artistic connections like these, and the links between Coburn and Kupka are obscure enough that they probably haven't been remarked on very much or even noticed until now. While we're on the subject of dark eidolons, Dreamland was illustrated by William Heath Robinson in his own Poe edition in 1900. Robinson isn't as sublimely grandiose as Kupka and Coburn but he also portrays Night as a literal figure. See the rest of his book here.
Previously on { feuilleton }
• Martin van Maële's illustrated Poe
• Narraciones extraordinarias by Edgar Allan Poe
• Fritz Eichenberg's illustrated Poe
• The Pendulum, the Pit and Hope
• Hugo Steiner-Prag's illustrated Poe
• Burt Shonberg's Poe paintings
• Illustrating Poe #5: Among the others
• Illustrating Poe #4: Wilfried Sätty
• Illustrating Poe #3: Harry Clarke
• Illustrating Poe #2: William Heath Robinson
• Illustrating Poe #1: Aubrey Beardsley
• Poe at 200
• The Tell-Tale Heart from UPA
• William Heath Robinson's illustrated Poe