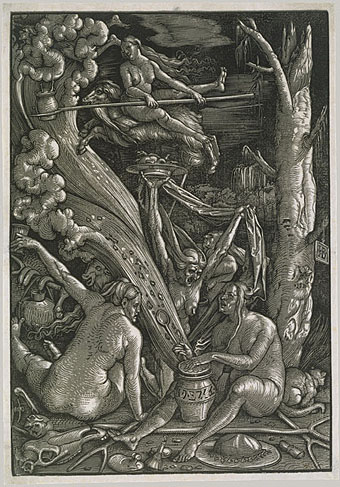 Scene of Witchcraft (1510) by Hans Baldung Grien.
Earlier this year Pam Grossman declared 2013 to be the Year of the Witch, so in honour of that (and the season) here's a handful of sorceresses through the ages. Most can be found in higher quality at the Google Art Project but a couple are from other sources. I've taken the liberty of attributing the drawing below to Hans Baldung Grien, not Albrecht Dürer as Google has it. Not only is this the attribution I've always seen for this picture but Baldung's "HBG" monogram is clearly visible beneath the sprawling woman.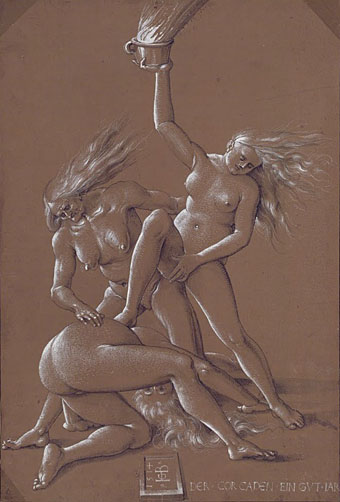 New Year's Greeting with Three Witches (1514) by Hans Baldung Grien.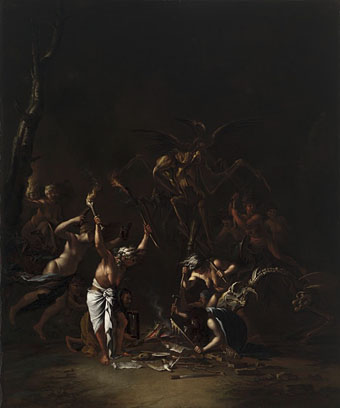 The Witches' Sabbath (c.1640–1649) by Salvator Rosa.
Salvator Rosa specialised in lurid depictions of bandits, executions and—as here—witches. The excessive imagery appealed to later generations, especially the Romantics. This painting is even more grotesque than usual with its flayed-bird abominations (below) looming out of the shadows.