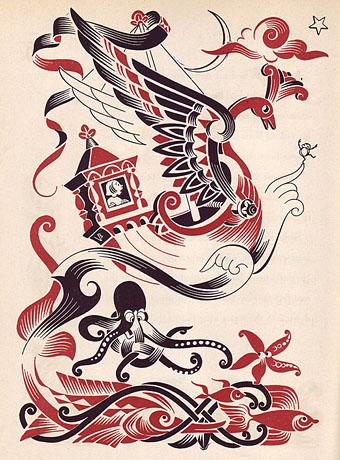 One of a series of illustrations by Vera Bock for A Ring and a Riddle (1944) by M.Ilin and E. Segal. Via A Journey Round My Skull.
• The Creator of Devotion: Photos from a Vogue Hommes Japan feature by Matthew Stone. And also here.
• Dressing For Pleasure: Jonny Trunk gets out the rubber gear. Related: King of Kinky.
• Salvator Rosa (1615–1673) is having a show at the Dulwich Picture Gallery, London.
• Hackney Dissenting Academy #1: Throbbing Gristle, Iain Sinclair & Alan Moore.
• Out Of The Flesh (1984) by Chakk. A great single never reissued on CD.
• Photographer Charles Gatewood remembers William Burroughs.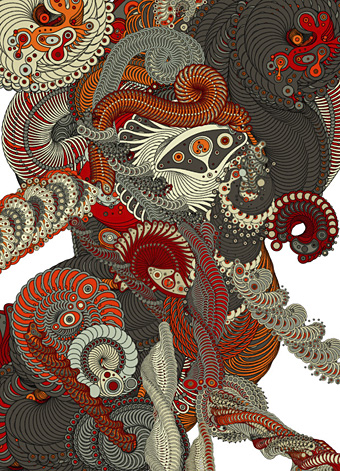 The Endless Mural. Follow links here to have a play around.
• Vinyl record sales are at the top of a four-year sales trend.
• Can explosions move faster than the speed of light?
• Buckminster Fuller's Dymaxion Car is reborn.
• Maximus Clarke talks with William Gibson.
• Why Stephen Fry loves Wagner.
• Alice Coltrane in concert, Warsaw, 1987: Harp solo | Impressions | Lonnie's Lament | A Love Supreme.