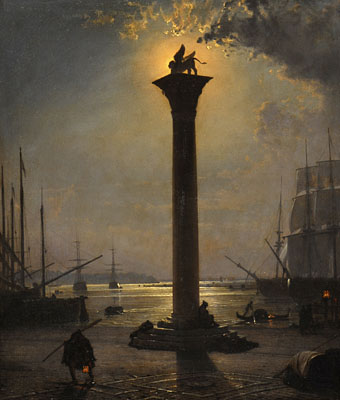 Piazzetta San Marco by Moonlight (no date) by Friedrich Paul Nerly.
• RIP Heathcote Williams (Guardian obit, NYT obit): poet, playwright, actor, artist, anarchist, stage magician, and no doubt many other things besides. Being a product of the counter-culture, and one of Britain's foremost anti-establishment writers (his polemics against the Royal Family were unceasing), Williams was a regular in the early publications produced by my colleagues at Savoy Books; in fact there's a piece by him in The Savoy Book itself. Consequently, Williams always felt like a distant relative even though we never met. Of his many film appearances, which ranged from low-budget independent productions to Hollywood junk, he was ideally cast as Prospero in Derek Jarman's film of The Tempest, and he audaciously steals a scene from Tilda Swinton in Sally Potter's wonderful Orlando. Elsewhere: Jeremy Harding on Williams' run-ins with the gatekeepers, and Why D'Ya Do It?, a song by Marianne Faithfull with lyrics by Williams.
• Mixes of the week: Secret Thirteen Mix 226 by Chihei Hatakeyama, and SydArthur Festival 2: Summer of Love Edition by Head Heritage.
• Geeta Dayal on composer and musique concrète pioneer Pierre Henry whose death was also announced this week.
• Jonathan Meades reviews Vinyl.Album.Cover.Art: The Complete Hipgnosis Catalogue by Aubrey Powell.
• "Brutal! Vulgar! Dirty!" Polly Stenham on Mae West and the gay comedy that shocked 1920s America.
• Hannah Devlin on religious leaders getting high on psilocybin for science.
• At Dennis Cooper's: Spotlight on…In Transit (1969) by Brigid Brophy.
• At Bibliothèque Gay: Matelots (1935) by Gregorio Prieto.
• SD Sykes on reconsidering Venice, crumbling city.
• This Ain't The Summer Of Love (1976) by Blue Öyster Cult | Orlando (1996) by Trans Am | Transit (2004) by Fennesz