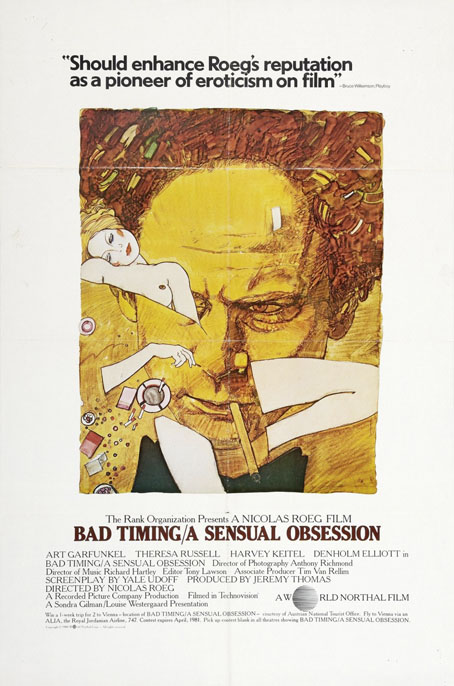 The title of that film was originally different [Illusions]… I woke up one day and thought of Bad Timing which sounds exactly like the right title—for my career. Now there was a film I really thought was one to which there would be a different response. Whilst filming I felt sure that this was one for the streets, one that people would really want to see. — Nicolas Roeg
So long to the great Nicolas Roeg, always one of my favourite film-makers. Roeg's works were naturally attractive when I was a teenager because he'd made a horror film and a science-fiction film; when these eventually turned up on TV it was evident that this was a director working on a level that had more in common with Continental Europe than Hollywood. Beyond the generic content it was his approach to directing that made his films essential: a fragmented editing style derived from Alain Resnais via Richard Lester (see below), a cosmic perspective almost entirely absent from the parochial concerns of British cinema, and a seemingly effortless ability to find visual rhymes in anything. Despite the "bad timing" comment above Roeg was fortunate to be working throughout the 1970s when having an approach that ran counter to the prevailing trends wasn't an obstacle to maintaining a career; as with Ken Russell, you watch some of the films today and are amazed and grateful that they were made at all. When reading the forthcoming plaudits it would be worth remembering that even the films regarded now as Roeg's best struggled for acceptance: Pauline Kael dismissed Don't Look Now as "trash", US screenings of The Man Who Fell To Earth provided explanatory notes for the hard-of-thinking, Bad Timing was described by its own distributors as "a sick film made by sick people for sick people", while the distributors of Eureka hated the film so much that for a time it could only be screened in the UK if the director was also present.
• Related: Where to begin with Nicolas Roeg, and Nicolas Roeg: It's About Time (2015), a 59-minute documentary for the BBC directed by David Thompson. Previous Roeg-related postings on this site include: The Nicolas Roeg Guardian Lecture, 1983 (Roeg discusses Eureka and other films with Philip Strick); Beyond the Fragile Geometry of Space (charting the recurrence of a book title from Don't Look Now); Canal view (using Google Street View to find the church in Don't Look Now); and Petulia film posters (designs for a Richard Lester film from 1968 that was photographed by Roeg, and whose fragmentary editing style prefigures the familiar Roeg technique).
• Edward Woodward's greatest screen role wasn't a prudish policeman or a mysterious vigilante but was David Callan, a conflicted assassin working for a division of the British Secret Service. Joseph Oldham explains.
• Mixes of the week: A mix for The Wire by Jing, FACT Mix 681 by Kelly Moran, and Crépuscules d'Automne, a seasonal mix by Stephen O'Malley.
• More Gorey: in 1978 Jeremy Brett was playing Dracula in the touring version of the Edward Gorey-designed play.
• Liberated from the LRB paywall for a brief time: George Melly writing in 1992 about René Magritte.
• Welcome to the witch capital of Norway: Chelsea G. Summers investigates.
• Space colony artwork from the 1970s.
• At I Love Typography: Magic printed.
• Memo From Turner (1970) by Mick Jagger | Wild Hearts (1985) by Roy Orbison | Be Kind To My Mistakes (1987) by Kate Bush