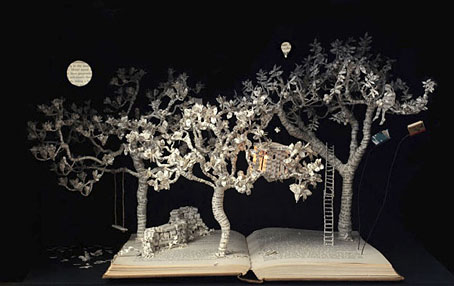 The Baron in the Trees (2011), a book-cut sculpture by Su Blackwell.
Kurt Andersen at Vanity Fair examines the latest claims that Vermeer used a combination of lenses and mirrors to aid the creation of his remarkable paintings. David Hockney caused a considerable fuss in 2006 when he made similar assertions. Andersen recounts how Tim Jenison (who isn't an artist) decided to test the hypothesis by building a replica of the room from Vermeer's The Music Lesson (1662–65) which he then painted with the assistance of a lens-and-mirror apparatus. I'm agnostic on this issue, and don't regard it as a devaluing of the work of Vermeer (or any other artist) if some special apparatus was used to help create the paintings; artists for centuries have been using whatever technology was available.
One point which isn't mentioned in the article: lens optics were being developed to a high standard in the Netherlands during Vermeer's time. One of the developers of the microscope, Antonie van Leeuwenhoek, was a contemporary of Vermeer's in Delft, and is even alleged to be portrayed in some of the artist's paintings.
• Before Alfred Hitchcock's film and Daphne Du Maurier's short story, The Birds was an "eerie yet satirical and rather metaphysical novel" by Frank Baker, inspired in part by Arthur Machen. Michael Dirda reviews a new edition. Related: "The Day of the Claw: A Synoptic Account of Alfred Hitchcock's The Birds", an essay by Ken Mogg examining avian menace through the ages.
• Kevin Brownlow and Carl Davis on how they brought Abel Gance's 270-minute silent masterwork, Napoleon (1927), back to the screen.
Finally, he was asked about the growth of surveillance and the militarization of the police.

"The phenomenon itself shouldn't be surprising—the scale was surprising—but the phenomenon itself is as American as apple pie," Chomsky said. "You can be confident that any system of power is going to use technology against its enemy: the population. Power systems seek short-term domination and control, not security."

Matthew Robare on "American Anarchist" Noam Chomsky in (of all places) The American Conservative.
• "Why the hell wouldn't I?" Evan J. Peterson on reading/performing his poetry in public, and his new book, The Midnight Channel.
• The adversaria of Google Books: captured mark of the hand and digitization as rephotography.
• No surprise that the rabies-haunted town of Scarfolk is soon to have its history fixed in print.
• Mazzy Star made a rare TV appearance last week, playing a song from their recent album.
• The Sorcerer Blog is obsessively devoted to William Friedkin's cult film.
• Unexpected Artefacts: Pushing the envelope with Bristol's Emptyset.
• Mix of the week: Secret Thirteen Mix 097 by Lee Gamble.
• At PingMag: Ryokudo—Tokyo's Green Roads.
• Norman Records' Top 50 albums of 2013.
• Birds Of Fire (1973) by Mahavishnu Orchestra | Attack Of The Killer Birds (2006) by Émilie Simon | One Thousand Birds (2012) by Six Organs of Admittance