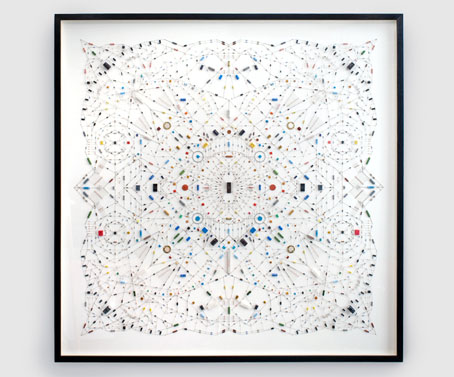 Technological mandala 02 (The beginning) (2012) by Leonardo Ulian.
• The Yellow Magic Orchestra really were the Japanese equivalent of Kraftwerk in 1978. I'd not seen this video for Firecracker before. Same goes for the Technopolis and Rydeen videos. Related: YMO's synth programmer, Hideki Matsutake, showing off his modular Moog on a Japanese TV show.
• Sra is the final book in the Aedena Cycle by Moebius. It's never been translated into English but Quenched Consciousness has just finished posting the entire book in an unofficial translation.
• "It's better to have a small amount of good comics, than a big amount of mediocre comics." Dutch comic artist Joost Swarte interviewed.
• From 2007: The Strange Lovecraftian Statuary of Puerto Vallarta (Thanks, Ian.) Related: More art by Alejandro Colunga.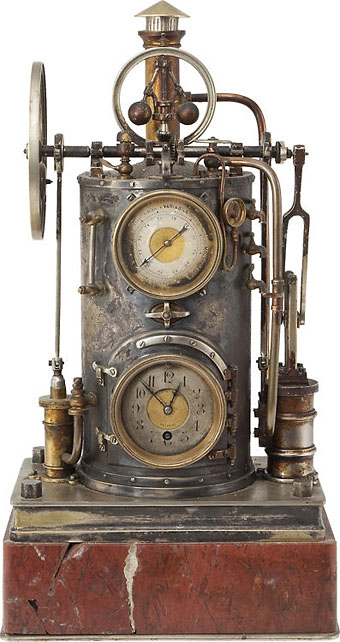 A novelty mechanical clock barometer in the form of a steam engine (c. 1885).
• The MR-808: a room-size TR-808 drum machine by Moritz Simon Geist with real instruments played by robot hands.
• "Shoot us and dig the grave; otherwise we're staying." The women living in Chernobyl's toxic wasteland.
• Hotel Room Portraits 1999–2012 by Richard Renaldi, a new photo exhibition at Wessel + O'Connor.
• Lane's Telescopic View of the Opening of the Great Exhibition, 1851.
• "I'm the target market, and I don't like it!" A Creative Catharsis.
• Brian Eno's new ambient album, Lux, is released on Monday.
• Collages by Sergei Parajanov.
• Techno City (1984) by Cybotron | Techno Primitiv (1985) by Chris & Cosey | Techno Dread (2008) by 2562.