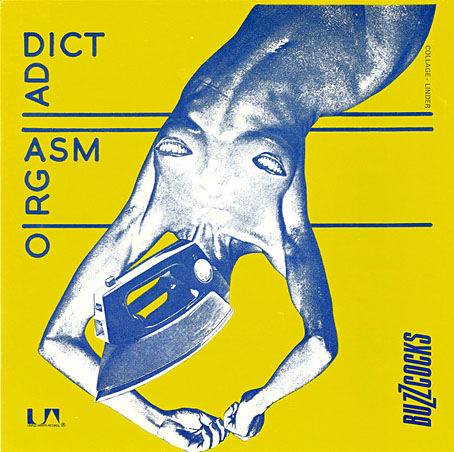 Orgasm Addict (1977). Design by Malcolm Garrett; collage by Linder.
• RIP Pete Shelley, Buzzcock and Homosapien. Shelley is celebrated for being in the vanguard of Britain's punk movement, of course. (Buzzcocks' Spiral Scratch was the UK's first independent single.) But he also loved Can, recorded an album of electronic drones (Sky Yen), and in 1983 successfully blended home-computer graphics with his own brand of superior electronic pop music. Related: Malcolm Garrett's Buzzcocks band logo at Fonts In Use; B'dum, B'dum: Tony Wilson in 1978 talking to Pete Shelley and Howard Devoto about Buzzcocks and Magazine.
• Winter demands ghost stories so Adam Scovell suggests 10 great winter ghost films. Related: Alexandra Heller-Nicholas presents an A–Z of Women's Horror Filmmaking.
• Carey Dunne on the rise of underground LSD guides for psychotherapy. Related: "Psychedelics change the perception of time," says Shayla Love.
• Ex-Neu! guitarist Michael Rother receives the box-set treatment early next year when the Groenland label reissues his early solo albums.
• Jodorowsky, an exhibition devoted to the writer and director, will be staged at El Museo del Barrio, New York, from February next year.
• "From Georges Méliès to Bill and Ted, movie hells remain seriously in hock to the Judeo-Christian playbook," says Anne Billson.
• The Owl's Legacy, Chris Marker's 13-part documentary series on Greek culture, receives its debut DVD release.
• Topic II (1989), a short film by Pascal Baes of pixilated dancers in the night streets of Prague.
• Mix of the week: Secret Thirteen Mix 274 by Koray Kantarcioglu.
• We are the first humans to hear the winds of the planet Mars.
• Patrick Magee reads The Third Policeman by Flann O'Brien.
• At Dennis Cooper's: Jean-Louis Trintignant Day.
• Mongolian biker rock: Wolf Totem by The HU.
• The Quietus albums of the year.
• Hell (2001) by Techno Animal ft. Dälek | Hell's Winter (2011) by Earth | Hell A (2017) by The Bug vs. Earth