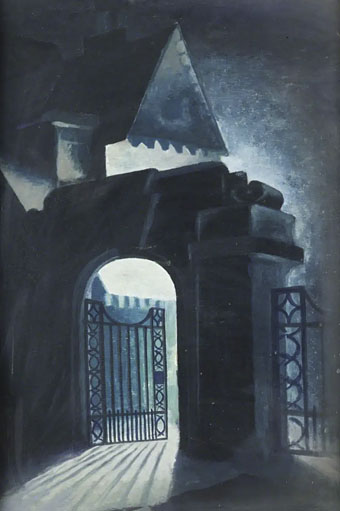 November Evening (1955) by Brian Gartside.
• The next Jon Savage compilation for Caroline True Records will be Jon Savage's Ambient 90s, a dive into the side of rave culture that I always preferred, even while disputing the use of the "A" word. Anything with beats isn't ambient by my definition, but I've been complaining about the nomenclature since 1991 to no avail. It's on pre-order anyway.
• "They produced in me an infinity of new images and feelings, that sometimes raised me to ecstasy, but more frequently sunk me into the lowest dejection." Thus Frankenstein's monster during his reading of three books that happen to be important texts for the Romantic imagination. Hunter Dukes looks at the syllabus of Frankenstein's monster.
• "Figure on Led Zeppelin IV cover identified as Victorian Wiltshire thatcher". Last year I discovered the source for the lyrics and credits lettering designs used on the same album's inner sleeve. Not as newsworthy, obviously, but I thought it was a good piece of cultural detective work.
• At Aquarium Drunkard: An interview with Morton Subotnick, now 90 years old. "Pioneer" is an over-used label, especially in electronic music, but Subotnick really does warrant the description.
• At Wormwoodiana: Mark Valentine on Unburied Bane, an EP by The Heartwood Institute based on a story by "the enigmatic N. Dennett".
• At Unquiet Things: Art and captions that didn't make the print version of The Art of Fantasy by S. Elizabeth.
• "Hidden demon revealed in the shadows of a Joshua Reynolds painting."
• New music: Polygon by Galya Bisengalieva, and Saor by Claire M. Singer.
• Steven Heller's font of the month is Letraflex.
• At Dennis Cooper's: Arthur Lipsett's Day.
• Martin Carthy's favourite music.
• Little Demon (1956) by Screamin' Jay Hawkins | Ballad Of Maxwell Demon (1998) by Shudder To Think | On Demon Wings (2000) by Bohren And Der Club Of Gore