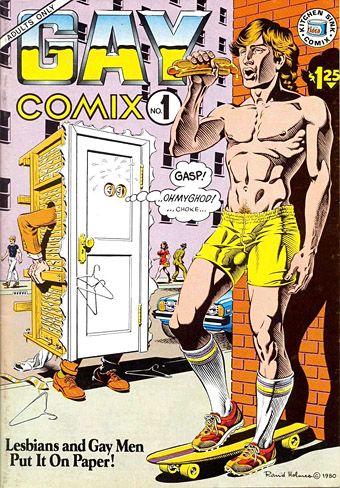 Art by Rand Holmes for Gay Comix No. 1, September 1980.
• In the universe next door, Los Angeles in November, 2019 looks like the drawings in the Blade Runner Sketchbook (1982). The book has been out of print for many years but available online for a while, although seldom in a downloadable form. A recent upload at the Internet Archive remedies this. In addition to the familiar Syd Mead designs for flying cars and street furniture there are some Moebius-like doodles by Ridley Scott, and Mead's design for Tyrell's cryogenic crypt, a detail that would have formed part of an unfilmed sub-plot.
• RIP Howard Cruse, comic artist and pioneering editor of the first few issues of Gay Comix in the 1980s. Cruse produced work outside the gay sphere (I first encountered his strips in Heavy Metal) but the stories that he and other artists created for Gay Comix (later Gay Comics) were some of the first by lesbians and gay men chronicling their own lives, as opposed to porn fantasies or the more recent trend of bolting a token sexuality to a superhero. John Seven talked to Cruse about his career in 2007.
• "On the eve of the First World War Stefan George had started recruiting his own twink army…" Well, if you really must have an army… Strange Flowers presents part one of a guide to the city of Vienna.
• In Wild Air, 2016–2018: all 72 of Heath Killen's requests for a list of six interesting things from artists, writers, scientists, ecologists, musicians, historians and others. My answers are at number 55.
• "Satan is a friend of mine": Sander Bink on a forgotten occult novel, Goetia (1893) by Frits Lapidoth.
• Picturing a voice: Rob Mullender-Ross on Margaret Watts-Hughes and the Eidophone.
• "They broke the rules": Killian Fox on the film posters of the French New Wave.
• At Dennis Cooper's: Jan Svankmajer Day.
• Ogi No Mato (1976) by Ensemble Nipponia | Rêve (1979) by Vangelis | Blade Runner Esper "Retirement" Edition, Part III (1982)