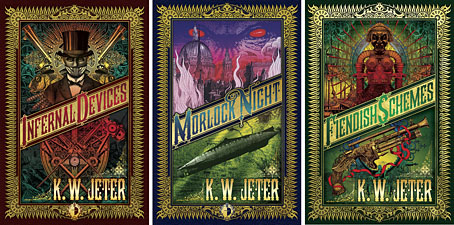 Those covers everyone likes. My designs for KW Jeter's steampunk novels from Angry Robot and Tor Books.
When I wrote a brief history of steampunk for Eye magazine last year I ended by somewhat provocatively declaring that until something better appeared this was the defining aesthetic of the moment. A year later, the movement (if we can use that term) continues to evolve despite the steady drip of complaints that it's all reactionary, historically illiterate, and so on. Much of the ire remains nonsensical, and often seems to boil down to a common disdain for people enjoying themselves in some unorthodox manner.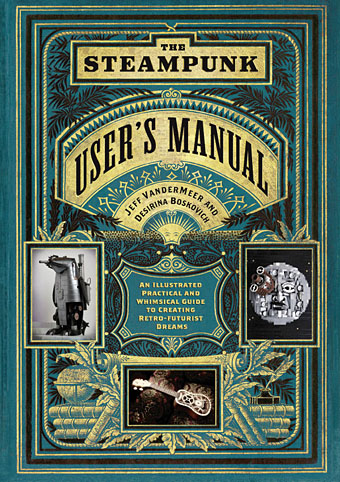 Design by Galen Smith after the Hetzel editions of Jules Verne's novels.
If I hadn't got involved on the art side I would have found it difficult to avoid being attracted by steampunk in one form or another since so much of it originates in areas I was already interested in, not least HG Wells and Victorian science fiction. The rapid evolution of the past few years means we're currently seeing an aesthetic leaving behind its origins to become an international subculture. What's striking about this activity—and this is something that doesn't seem to have been discussed very much—is the way the whole thing has been birthed by genre fiction rather than by pop music, as was the case for the second half of the 20th century. This piece is meant to be a news post, however, not another cultural critique, but if I happen to write any more on the subject there's something there that's worth exploring.

As to the news: this month finds my steampunk artwork manifesting in three very different locations in one of those odd coincidences of timing that occur now and then. First up there's the Steampunk User's Manual edited by Jeff VanderMeer & Desirina Boskovich, a follow-up to 2011's Steampunk Bible. For the new volume I designed spreads for three entries by Jess Nevins from The Encyclopedia of Fantastic Victoriana: Alternative History Edition.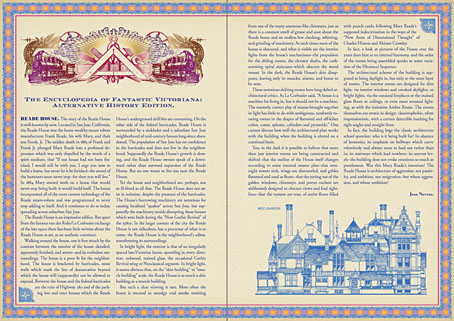 The samples here are from an entry about the Reade House, a dwelling run riot along the lines of the Winchester Mystery House in California. Like the Steampunk Bible, the book is published by Abrams so it's sure to be a handsome production. More pages can be seen at SF Signal (who also have a contents list) and at Jeff VanderMeer's site.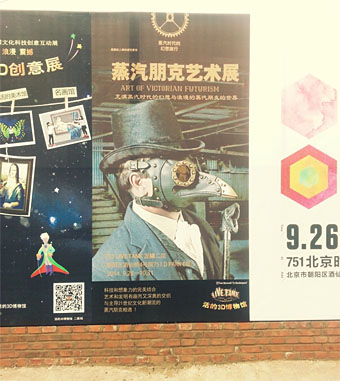 Exhibition poster, Beijing. Leather mask by Tom Banwell.

Next up there's the steampunk art exhibition in Beijing which does appear to be running despite silence from the Korean organisers. This is the same Steampunk: The Art of Victorian Futurism show that was staged at Artcenter IDA in Seoul back in March, and which featured five of my book covers along with a host of impressive works by a range of international artists. The success of that show led to plans for two exhibitions in China: the first in Beijing to follow the annual Beijing Design Week, and another to take place in Shanghai later in the year. The artist liaison person left his job a couple of weeks ago, and the other organisers haven't been very diligent about posting news, but P Square Studio have taken photos of their own pieces at the site, 751 D-Park, which is a reconditioned industrial estate that now operates as an exhibition venue. The space looks rather rudimentary but I'm not complaining; I never expected to have anything of mine on show in China. The exhibition runs to the end of the month.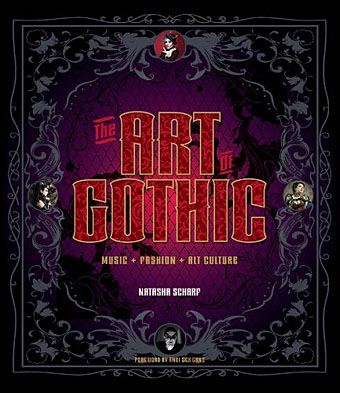 Finally, there's The Art of Gothic, a lavish overview of Goth art and culture by Natasha Scharf. When I was contacted about this last year I thought they might want some of my Cradle of Filth artwork but the request was for more steampunk things, including a photo of the cola cans I designed for Cybercandy. Amazon UK has just posted a number of pages from the book.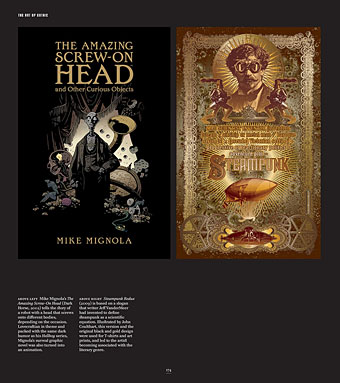 left: The Amazing Screw-On Head by Mike Mignola (2002); right: the full-colour version of the ever-popular Steampunk Equation (2009), words by Jeff VanderMeer, graphics by John Coulthart.
A jibe doing the rounds a few years ago was that steampunk cosplayers are "Goths wearing brown"; that's not such a joke now that the two subcultures are beginning to merge. This feels like a natural development in many ways: there's always been a Victorian side to Goth culture, and both subcultures have developed a style that can exist independently from the cultural products that brought them into being. Goth evolved in the early 1980s; I wouldn't be surprised if steampunk is still around in one form or another thirty years from now. The Art of Gothic is published in the UK by Omnibus Press later this month. I'm looking forward to it.
Previously on { feuilleton }
• Steampunk catalogued
• Steampunk: The Art of Victorian Futurism
• Steampunk Calendar
• Words and pictures
• Nathanial Krill at the Time Node
• Fiendish Schemes
• Ghosts in Gaslight, Monsters in Steam
• Steampunk Revolution
• The Bookman Histories
• Aether Cola
• Crafting steampunk illustrations
• SteamPunk Magazine
• Morlocks, airships and curious cabinets
• The Steampunk Bible
• Steampunk Reloaded
• Steampunk overloaded!
• More Steampunk and the Crawling Chaos
• Steampunk Redux
• Steampunk framed
• Steampunk Horror Shortcuts