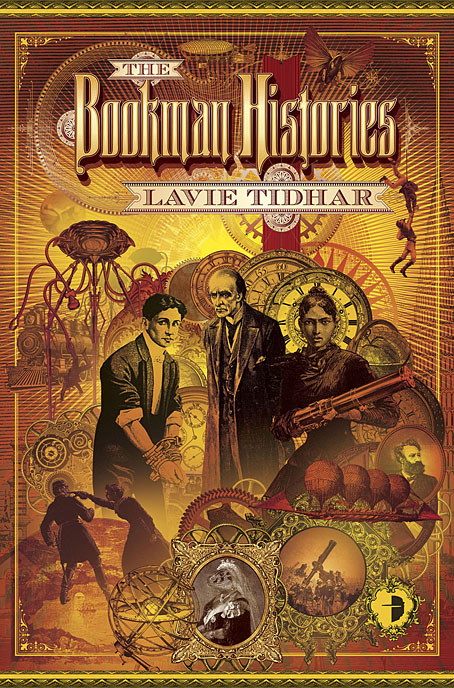 Now that Angry Robot books has revealed the cover design which kept me busy throughout July I can do the same here. The Bookman Histories is an omnibus reprinting of Lavie Tidhar's steampunk trilogy which comprises The Bookman, Camera Obscura and The Great Game. The stories are frenetic, crowded with incident and feature a huge range of characters that find real people such as Jules Verne and Harry Houdini encountering contemporaries—both human and non-human—from the fiction of the late 19th century. All the requisite steampunk boxes are ticked. David Icke will be thrilled to know that in these books the British royal family are a bunch of lizards from space…
My initial impulse when faced with far too much material was to cram every square centimetre of the cover with detail but if I'd have done that I'd probably still be working on it, and would also have run the risk of it turning into an incoherent mess. So this layout, which is crowded enough, is something of a compromise. I also wanted to save some space for the title design.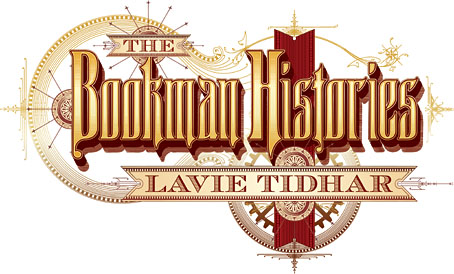 The main body of the title isn't a font but was created from scratch based on letterforms and decorative elements from this fantastic set of fire insurance title pages. I'd been wanting to try something based on these hand-drawn designs ever since Mr Peacay posted them at BibliOdyssey last year. This particular design provided the basic letter shapes although I had to invent several of missing characters.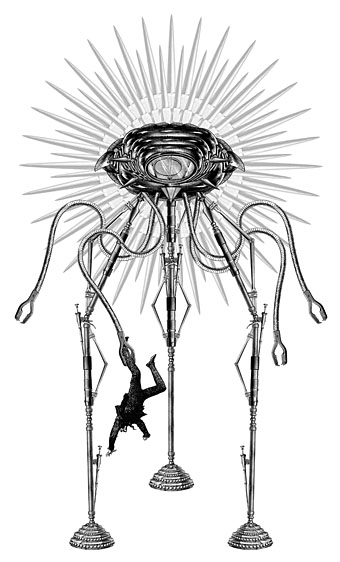 In the third part of the trilogy the Martians from HG Wells' War of the Worlds invade, so I spent rather too much time fashioning a Martian tripod from lots of tiny bits of machinery. This is one of the earlier drafts. It was an odd thing finishing this cover (which includes the planet Mars in the background) whilst the world was getting excited by the real landing on Mars of the Curiosity Rover.
The Bookman Histories will be published in March next year. Meanwhile there's more steampunk design on its way. Watch this space.
Previously on { feuilleton }
• Aether Cola
• Crafting steampunk illustrations
• SteamPunk Magazine
• Morlocks, airships and curious cabinets
• The Steampunk Bible
• Steampunk Reloaded
• Steampunk overloaded!
• More Steampunk and the Crawling Chaos
• Steampunk Redux
• Steampunk framed
• Steampunk Horror Shortcuts