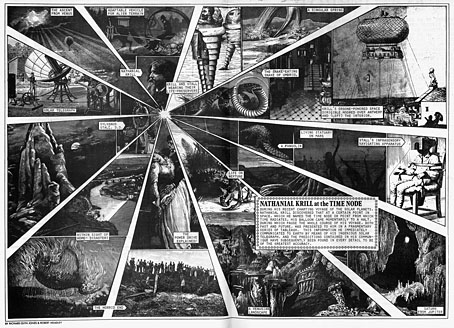 Nathanial Krill at the Time Node (1978) by Richard Glyn Jones and Robert Meadley.
Michael Moorcock's New Worlds magazine resumed publication in 1978 after a hiatus of two years following the end of its New Worlds Quarterly paperback format. The issues for the years 1978 and 79 are the oddest in the entire run of the magazine. Issue 214 had the magazine title in Russian, a cover illustration of Union Jack anti-hero Zenith the Albino, and promised to deliver "Politics—Sport—Science"; issue 213 had an Empire-era cover, and contents which mostly dispensed with written fiction in favour of visual features such as newspaper pages from parallel time streams, or satirical collage.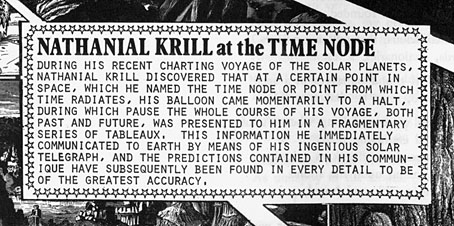 Among the satire there was this two-page piece by Richard Glyn Jones and Robert Meadley which is probably the closest the magazine came to what people now call steampunk. I say probably because many of Moorcock's alternate histories were doing in the late 60s and early 70s what steampunk does today although not all of these appeared in NW. Nathanial Krill at the Time Node has the additional interest for me in being another example of using period engravings for fantastic or satirical ends. Other examples of this are well-documented but this is one that few people will have seen. Richard Glyn Jones was a regular illustration contributor to New Worlds; Robert Meadley had four short stories in New Worlds Quarterly. Ten years ago I designed Meadley's essay collection, A Tea Dance At Savoy. He's a great writer, I keep hoping we'll see more of his work one day.