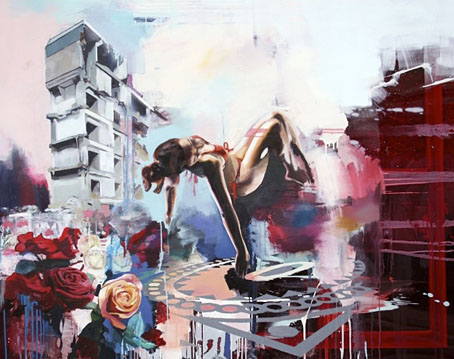 Delta-Wing (2009) by Chloe Early.
• "Feted British authors are limited, arrogant and self-satisfied, says leading academic". Stating the bleeding obvious but it still needs to be said, apparently, especially when the announcement of the Booker list this year caused the usual confusion when Amis Jr. and McEwan weren't included, as though the mere existence of their novels makes them prize-worthy. And as someone pointed out, the word "male" is missing from that headline.
• Hero of Comic-Book World Gets Real: Alan Moore again, in the NYT this time. Related: a review of Unearthing live.
• Announcing The Hanky Code by Brian Borland & Stephen S Mills, a 40-poem book to be published next year by Lethe Press. For an explanation of the Hanky Code there's this, and there's also an iPhone app.
• Folk—the 'music of the people'—is now hip again, says (who else?) Rob Young who can also be heard on the archived podcast here. Related: the folk roots of Bagpuss. Related to the latter: The Mouse Mill.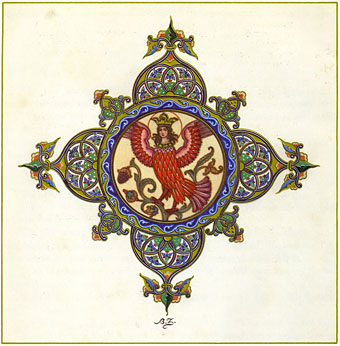 An endpiece from The Firebird and other Russian Fairy Tales by Boris Zvorykin.
• 'Yes' to Catastrophe: Roger Dean, Prog and SF. A lengthy and thoughtful analysis of Roger Dean's early work.
• Into the Media Web, the enormous Michael Moorcock book which I designed, is officially published this week.
• Cassette playa: in praise of tapes. I've complained about tapes in the past but people continue to find them useful. Some technologies die harder than others.
• Boy BANG Boy: "Quiet moments made suddenly very loud with the attitude and opinion of what it means to be a young male in an impossibly diverse world." An exhibition opening at Eastgallery, London, on August 5th.
• Empty your heart of its mortal dream: Alfred Kubin's extraordinary novel, The Other Side.
• Ghostly and Boym Partners devise a new way to deliver digital music.
• Besti-mix #27: a great selection by producer Adrian Sherwood.
• Agnostics are troublemakers. Amen to that.
• RIP Harry Beckett.
• Acousmata.
• Let Us Go In To The House Of The Lord by Pharoah Sanders (live, 1971): Part 1 | Part 2