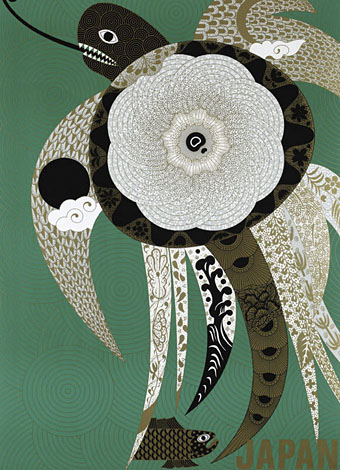 A poster by Kazumasa Nagai.
• Franco Maria Ricci creates the world's largest maze. "The former publisher said he first confided his ambition to Jorge Luis Borges, who characteristically told him the world's largest maze already existed and was called a desert." Related: Mirror, Mask, Labyrinth, a review of two new collections of Borges' poetry.
• FACT mix 164 is a dubstep collection by Pinch and a promotion for the Dark Matter compilation which I designed earlier this year.
• One of the monuments of 20th century music, Bitches Brew by Miles Davis, is released in another new (and expensive) edition next month by Sony. Nice packaging, and there's a vinyl edition included, but these things always come across as a cyncial attempt to milk the hardcore fans one more time. And have you noticed how all vinyl releases are now described as "audiophile"? If the big record companies had shown this much dedication to quality in the 1980s when they were jobbing out sub-standard vinyl pressings their reputation might be slightly higher today.
• More Gysin: Brion Gysin, William Burroughs, and the secret life of a building on the Bowery. And Ubuweb's page of Gysin sound works and recordings.
• Michael Moorcock: "I think I preferred my own imagination". A two-part interview about the cover designs for Moorcock books.
• The Pansy Project: "Artist Paul Harfleet plants pansies at the site of homophobic abuse, he finds the nearest source of soil to where the incident occurred and generally without civic permission plants one unmarked pansy. The flower is then photographed in its location and posted on his website, the image is entitled after the abuse … The Pansy Project also marks locations where people have been killed as a result of homophobic attack"
• This Gaming Life: Travels in Three Cities. Jim Rossignol's book is available as a free download.
• Lost London. Also, the Victorian Catacombs of South London.
• Dedalus Books had its Arts Council grant reinstated.
• 'Zine Lutefisk: fashion/art/escape.
• Time Will Show The Wiser (1968) by Fairport Convention | She Moves Through The Fair (1969) by Fairport Convention | She Moved Through The Fair (1994) by Jam Nation.