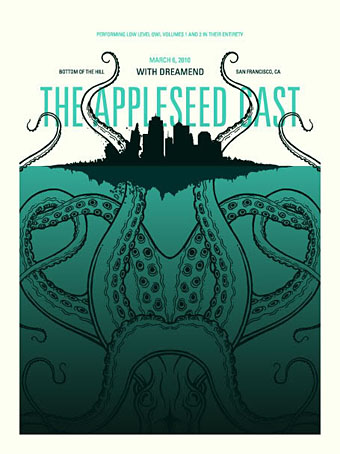 Shades of Toho: the city of San Francisco encounters its octopoid nemesis on this gig poster from DKNG. Via OMG Posters!
• Related to the above: Godzilla Haiku.
• View from Another Shore: a fantastic (so to speak) and overdue interview with Franz Rottensteiner, writer and editor of landmark studies of fantasy and science fiction.
• Ronald Searle: a life in pictures: an appreciation by Guardian cartoonist Steve Bell.
• 832 masks: The Maskatorium at Flickr.
• The Cult of the Theremin: lots of theremin links including this page of scans from a beautiful Art Deco theremin brochure. (Thanks to Kara for the tip!) Related: the DIY IKEA lamp theremin.
• Music & Science Fiction, an exhibition at Maison d'Ailleurs.
• Nathalie found a stoned angel in Rome.
• EVB's Boy of the Week is a Spanish guy in his underwear drawn by Jacobo Labella.
• Film of the month: Sally Potter's Orlando on DVD, featuring the luminous enigma of Tilda Swinton.