I spent much of the summer of 1983 playing games on a very primitive ZX Spectrum computer while listening to the first couple of Street Sounds Electro compilations. Those mix albums were among the best releases that year and remain highly sought after, seeing as they've never been reissued on CD.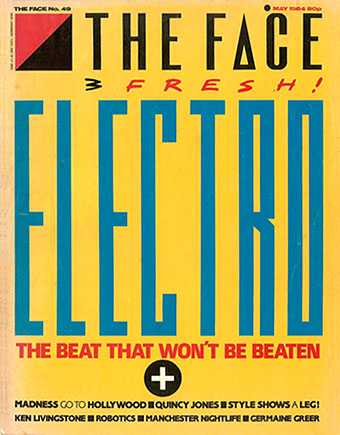 The musical reputation of the compilations has overshadowed the sleeve design which was very distinctive for the time and undoubtedly a factor in their success. The vertical ELECTRO type was inspired by Neville Brody's design for The Face which had turned the magazine's title through ninety degrees the year before. Also very Brodyish was the use of photocopier-processed graphics and narrow typography although it should be pointed out that Brody hand-drew nearly all his headlines which left his imitators searching through type catalogues for approximations. The sleeve designs are credited to "Red Ranch for Carver's" about whom I can find no information whatever. Things came full-circle when The Face ran a feature on the electro scene in 1984 giving Brody the opportunity to do a cover with his own variant on the sleeve layouts.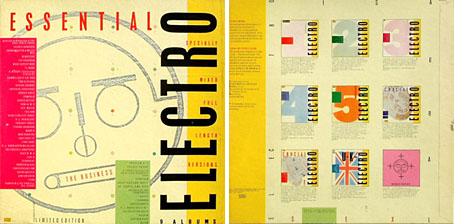 Essential Electro 9-album box, HBOX 1 (1984).
One of the big attractions of these albums for me was the new directions they were opening up for electronic music. Outside the mainstream pop world electronica in the early Eighties meant either the polite fare of Tangerine Dream or the dreary sludge of minor industrial acts such as Portion Control. Cabaret Voltaire were still vital in the early 1980s: their thundering Crackdown single (with sleeve design by Neville Brody) was remixed for its 12-inch incarnation by dance producer John Luongo while electro producer John Robie (whose production is featured on Electro 1) remixed their Yashar single for Factory Records. But nothing matched the excitement of a bunch of NYC kids lifting Kraftwerk riffs and playing in a very unselfconscious manner with new and relatively cheap equipment, especially the Roland TR-808 drum machine which provides the backbone for many of these recordings.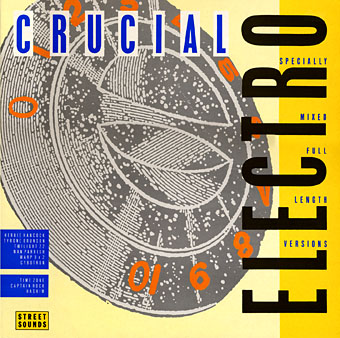 Crucial Electro, ELCST 999 (1984).
A1 Tyrone Brunson—The Smurf
A2 Warp 9—Light Years Away
A3 Warp 9—Nunk (New Wave Funk)
A4 Man Parrish—Hip Hop, Be Bop (Don't Stop)
A5 Herbie Hancock—Rockit
B1 Twilight 22—Electric Kingdom
B2 Cybotron—Clear
B3 Hashim—Al-Naafiysh (The Soul)
B4 Captain Rock—Return Of Captain Rock
B5 Time Zone—Wild Style
Although this came later in the series it's probably the best single collection. Lots of classic tracks with John "Jellybean" Benitez's Warp 9, Man Parrish, 43 year-old Herbie Hancock (assisted by Bill Laswell and DST) showing he could still rock with the kids, Cybotron aka Juan Atkins riffing on Kraftwerk, Hashim's great Al-Naafiysh (one of my all-time favourites) and Afrika Bambaataa's Time Zone. Crucial indeed.
Electro 1, ELCST 01 (1983).
A1 The Packman—I'm The Packman (Eat Everything I Can)
A2 Newcleus—Jam On Revenge (The Wikki-Wikki Song)
A3 West Street Mob—Break Dancin'—Electric Boogie
A4 C-Bank—Get Wet
B1 K-9 Corp—Dog Talk
B2 G. Force—Feel The Force
B3 Project Future—Ray-Gun-Omics
B4 Captain Rock—Return Of Captain Rock
"As seen on TV", Electro 1 was dominated by breaks and raps and which means it sounds more conventionally hip hop than some of its neighbours. The Newcleus track was a real gem, however, a very infectious chipmunk-voiced rap whose Wikki-Wikki subtitle refers to the sound of record scratching, still a big deal in 1983.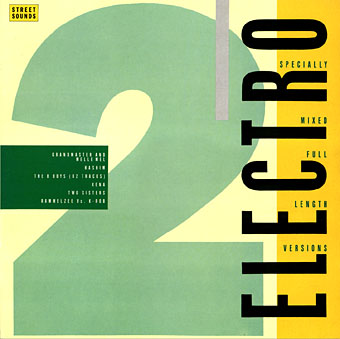 Electro 2, ELCST 02 (1983).
A1 The B-Boys—Two, Three, Break
A2 The B-Boys—Cuttin' Herbie
A3 Xena—On The Upside
A4 Hashim—Al-Naafiysh (The Soul)
B1 Rammellzee Vs K-Rob—Beat Bop
B2 Two Sisters—B-Boys Beware (Club Mix)
B3 Grandmaster Flash & Melle Mel—White Lines (Don't Don't Do It)
Along with Crucial Electro, the other high point of the series. This starts out in a very minimal manner with two tracks of simple break stuff (Cuttin' Herbie is a scratch mix of Rockit) then explodes into colour with Xena's anthem and Hashim's Al-Naafiysh. Beat Bop is a slow Message-style rap which undergoes another explosion as Two Sisters burst into a tremendous girl-power rap. Al-Naafiysh remains for me the definitive TR-808 track but B-Boys Beware gives it a run for its money.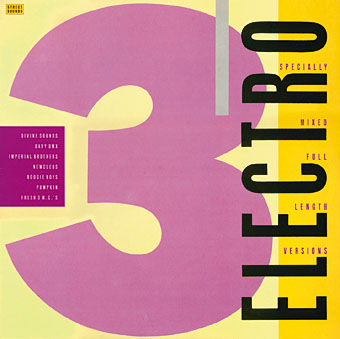 Electro 3, ELCST 03 (1984).
A1 Divine Sounds—Dollar Bill
A2 Imperial Brothers—We Come To Rock
A3 Newcleus—Jam On It
B1 Boogie Boys—Zodiac
B2 Pumpkin—King Of The Beat
B3 Davy DMX—One For The Treble (Fresh)
B4 Fresh 3—MC's Fresh
This for me was the last good collection (although side two was rather weak) including the welcome return of Newcleus. The series continued up to #10 in 1985 but #4 lacked the magic of the earlier editions and the expediency of limited resources moved my attention elsewhere. Much of electro's original momentum was lost by the mid-Eighties as the rap quotient gradually went mainstream and artists outside the scene such as New Order began co-opting the producers. Some artists stayed with the underground, however, Juan Atkins in particular moving electro forward into Detroit Techno. It's (very) arguable that much of the music you've been hearing over the past twenty years can be traced back to these few singles. And if you want some equally spurious contemporary relevance, Xeni Jardin insists that Newcleus's "wikki-wikki" refrain is the Wikipedia theme tune.
Nearly everything here has been reissued on compilation CDs although those collections lack the juxtaposition you get from the Street Sounds mixes. Try to hear the original vinyl if you can.
Elsewhere on { feuilleton }
• The album covers archive