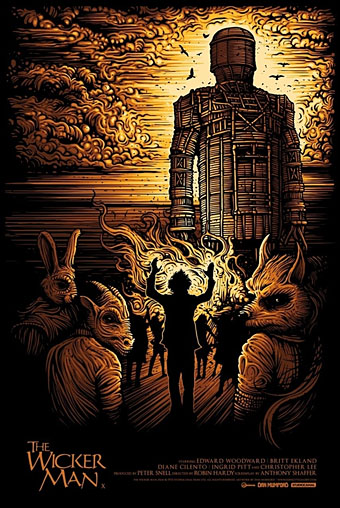 A new Wicker Man poster by Dan Mumford appears on the cover of the forthcoming DVD/BR reissues. Prints are available.
• The long-awaited release of a restored print of Robin Hardy's The Wicker Man approaches. Dangerous Minds has a trailer while The Guardian posted a clip of the restored footage. The latter isn't anything new if you've seen the earlier uncut version, but the sound and picture quality are substantially better. I've already ordered my copy from Moviemail.
• "It's a fairly bleak place, and it has this eerie atmosphere. East Anglia is always the frontline when there's an invasion threatening, so there are lumps of concrete dissolving into sand, bits of barbed wire and tank tracks that act as a constant reminder. I really love it." Thomas Dolby talking to Joseph Stannard about environment and memory.
• Dome Karukoski is planning a biopic of artist Tom of Finland. Related: Big Joy, a documentary about the life and work of James Broughton, poet, filmmaker and Radical Faerie.
The desire to be liked is acceptable in real life but very problematic in fiction. Pleasantness is the enemy of good fiction. I try to write on the premise that no one is going to read my work. Because there's this terrible impulse to grovel before the reader, to make them like you, to write with the reader in mind in that way. It's a terrible, damaging impulse. I feel it in myself. It prevents you doing work that is ugly or upsetting or difficult. The temptation is to not be true to what you want to write and to be considerate or amusing instead.

Novelist Katie Kitamura talks to Jonathan Lee.
• Leonora Carrington: The Celtic Surrealist opens on Wednesday at the Irish Museum of Modern Art, Dublin.
• Julia Holter turns spy in the video for This Is A True Heart.
• Alexis Petridis talks to graphic designer Peter Saville.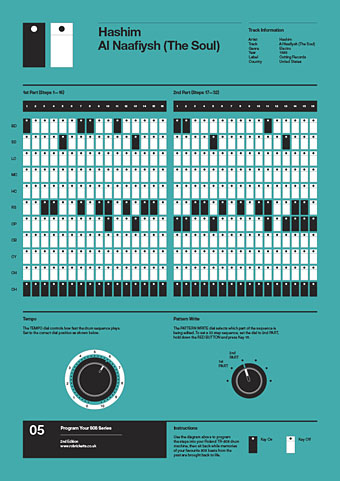 Al-Naafiysh (The Soul) by Hashim. From the Program Your 808 poster series by Rob Rickets.
• Rob Goodman on The Comforts of the Apocalypse.
• Post-Medieval Illustrations of Dante's Sodomites.
• Annoy Jonathan Franzen by playing Cat Bounce!
• The Surrealist Waltz (1967) by Pearls Before Swine | The Jungle Line (1981) by Low Noise (Thomas Dolby) | Al-Naafiysh (The Soul) (1983) by Hashim