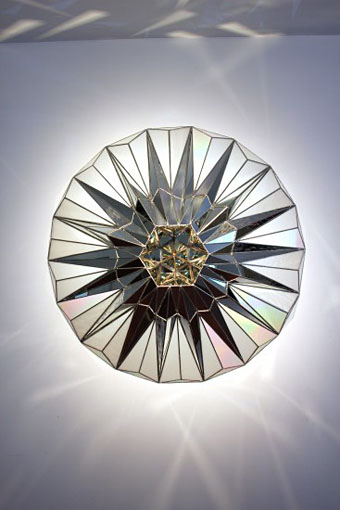 Beautiful Void: Holy Void II (2015) by Andy Diaz Hope.
• "Feeling like a woman. Looking like a man." Rick Poynor on the cover art for Nightclubbing by Grace Jones. Related: A One Man Show, Jean-Paul Goude's essential film of Jones' 1982 tour where many of the songs are better than their album versions.
• Crammed Discs' revival of the Made To Measure series continues with the release in October of Blue Velvet Revisited by Tuxedomoon & Cult With No Name, a soundtrack from the Peter Braatz documentary about David Lynch's film.
• "We were learning from point zero; we created something that wasn't around before…" Hans-Joachim Roedelius talking to Bruce Tantum about his work with Cluster and Harmonia.
• "In the Shangri-La pool there are no floating impurities. Apart from myself." Iain Sinclair swims in "the highest pool in Europe" on the 52nd floor of The Shard, London.
• From 2012: "Possible Bubbles of Spacetime Curvature in the South Pacific" by Benjamin K. Tippett.
• After 23 years of delays and bootleg versions, Backwards by Coil is being given an official release.
• "Relaxed terror", "perky dismay" and "unspecified uncertainty": library music at Scarfolk.
• Mix of the week: a 4-hour collection of favourite music compiled by Autechre.
• Masakazu Shirane and Reuben Young make a human-size kaleidoscope.
• "I always was a weird child," says John Waters.
• A new version of Argent by Jane Weaver.
• Chaos Magic (sic): The Fashion Trend
• Void (2009) by Monolake | Void (2011) by Emptyset | Void (2014) by The Bug feat. Liz Harris