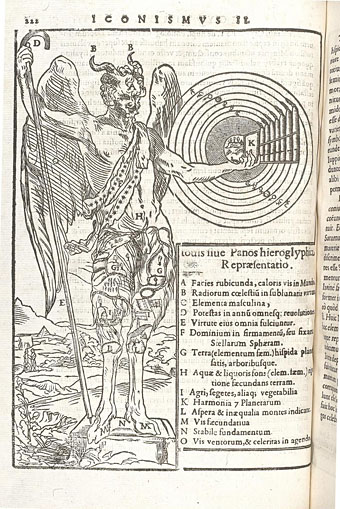 More from the Kircher archives at the University of Heidelberg. As before, it's good to see illustrations familiar from countless reprintings in books in their place of origin. The volume in question is Obeliscus Pamphilius: hoc est, Interpretatio noua & Hucusque Intentata Obelisci Hieroglyphici (1650), one of Kircher's attempts at deciphering the hieroglyphics on Egyptian obelisks. I'm still not sure how the Great God Pan fits into these speculations even as a diagrammatic figure, unless in this case it's Pan as a representative of Nature as a whole.
Whatever the explanation, the Pan picture often turns up in occult anthologies although you're as likely to see the copy from Manly P. Hall's The Secret Teachings of All Ages (1928) as the original. Hall's rendering is useful for the translation of the Latin although he also says it may represent the god Jupiter (?) and he censors the not-very-obtrusive penis, a rather fatuous bit of prudery for a book that's supposedly concerned with universal truths.
A few more plates follow, one of which features a serpent I swiped several years ago for a Cradle of Filth T-shirt design.