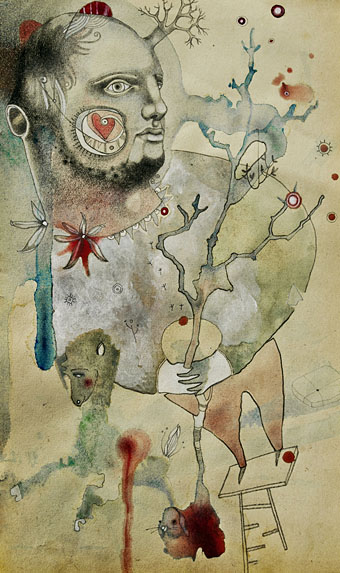 L'uomo che piantava gli alberi (2013) by Sofia Rondelli. Via Form Is Void.
• I'm looking forward to hearing the new album by Chrome Hoof, a band whose ambition and attitude makes many of their contemporaries seem lukewarm at best. Mick Middles gets to grips with Chrome Black Gold here. John Doran interviewed the group in 2010, a piece which includes a Chrome Hoof mix of tracks by other artists.
• Jay Roberts: "I was a young Marine scout sniper, definitely his type. And for a single, unforgettable afternoon, Orange County's most notorious serial killer coaxed me into a place from which many didn't escape."
• Jonathan Meades: "Why I went postal … and turned my snaps into postcards." "Meades isn't your average architectural fanboy," says Rachel Cooke who went to talk to him at his home in Marseille.
"Faced with a Nabokov novel," Zadie Smith writes, "it's impossible to rid yourself of the feeling that you've been set a problem, as a chess master sets a problem in a newspaper." Certainly, while Humbert asks the reader "not to mock me and my mental daze", the suspicion is that the power dynamic in his tale is a little different.

Tim Groenland on the difficulties of writing, publishing and reading Lolita.
• Cosmic Machine is a double-disc collection of French electronic music from the 1970s & 1980s. Justice enthuse about the music here where you can also preview the tracks.
• The Midnight Channel, Evan J. Peterson's horror-poetry homage to the VHS era, is available now from Babel/Salvage. There's a trailer here.
• "Our age reveres the specialist but humans are natural polymaths, at our best when we turn our minds to many things," says Robert Twigger.
• Another musical Chrome: Richard Metzger on newly resurrected recordings by one of my long-time cult bands.
• Hermes Trismegistus and Hermeticism: An interview with Gary Lachman.
• A stunning set of photos of London in the sweltering summer of 1976.
• Pye Corner Audio live at The Outer Church, Madrid, November 2013.
• Judee Sill, the shockingly talented occult folk singer time forgot.
• Designer Jonathan Barnbrook answers twenty questions.
• Don't trust the painting: Morgan Meis on René Magritte.
• Laurie Anderson's farewell to Lou Reed.
• Philippe Druillet at Pinterest.
• The Chrome Plated Megaphone Of Destiny (1968) by The Mothers of Invention | March Of The Chrome Police (1979) by Chrome | Chrome (1981) by Debbie Harry