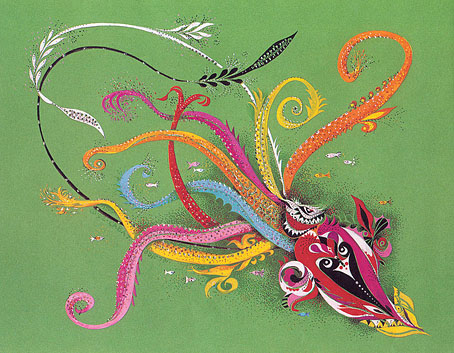 Kraken from Ernie Cabat's Magical World Of Monsters (1992) at Monster Brains.
"I think for a lot of people who don't read pulp growing up, there's a real surprise that the particular kind of Pulp Modernism of a certain kind of lush purple prose isn't necessarily a failure or a mistake, but is part of the fabric of the story and what makes it weird. There's a big default notion that 'spare,' or 'precise' prose is somehow better. I keep insisting to them that while such prose is completely legitimate, it's in no way intrinsically more accurate, more relevant, or better than lush prose." China Miéville at Weird Fiction Review expressing an opinion that few in the literary world ever articulate, never mind agree with. Far more common is (to pick a recent example) Ursula K Le Guin dismissing Cormac McCarthy for "pretentious prose".
• "Militant feminist scientists brainwash a research subject to assassinate the Welsh Minister of Prostitution. Meanwhile World War III is being fought and the USA has been invaded." The IMDB précis for Taking Tiger Mountain (1983), a feature film directed by Tom Huckabee from a script by William Burroughs, and featuring a 19-year-old pre-Aliens/Near Dark Bill Paxton. The director discusses the film's production at Screen Slate and attends a rare screening at Spectacle, Brooklyn, NYC, today (March 25th). YouTube has a three-minute clip. Surprising this has remained buried for so long. When can the rest of us get to see it?
• Prestel have published the catalogue for In Wonderland: The Surrealist Adventures of Women Artists in Mexico and the United States. AnOther previewed some of the contents. The exhibition runs at the LACMA, Los Angeles, until 6th May.
…gays only make up about 3% of the population so we spend our whole lives "translating" straight movies, books, ballets into gay terms and studying the heterosexuals around us—we know much more about them than they know about us, just as blacks know a lot about whites but whites know virtually nothing about blacks.

Edmund White (again) interviewed by Frank Pizzoli at Lambda Literary Review.
• New on Caroline True Records: Jon Savage's "Fame", Secret History of Post-Punk 1978–81. "Some of it doesn't sound like anything that has happened since," says Savage. Indeed. FACT has the track list which I was pleased to see includes Chrome among the usual suspects. Hear a 12-minute promo mix at Soundcloud.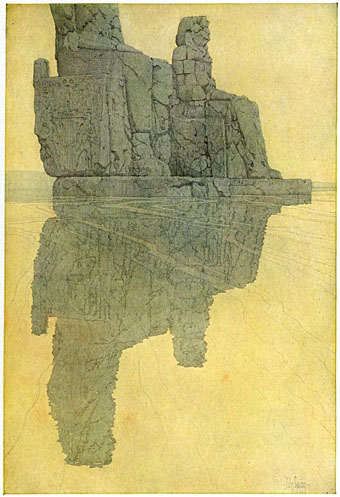 The Colossi of Memnon by Jules Guerin. From Egypt and its Monuments (1908) by Robert Hichens at Golden Age Comic Book Stories.
• Gay Life Stories, "a colourful compendium of same-sex love through the ages" by Robert Aldrich. Reviewed here. Related: Alice Dreger asks "Are straight people born that way?"
• Clive Hicks-Jenkins created a series of designs for a Washington DC performance of Stravinsky's The Soldier's Tale. Follow their evolution in reverse order at his blog.
• Hocus Pocus: Margaret Eby on the brief epistolary relationship between Harry Houdini and Arthur Conan Doyle.
• Rick Poynor on more cover designs for JG Ballard's Crash.
• London, city of dreams and rivers, caught on Polaroid.
• Photo prints by Thom Ayres for sale at Society6.
• Meet You In The Subway (1979) by Chrome | New Age (Version III) (1980) by Chrome | Danger Zone (1981) by Chrome | Firebomb (1982) by Chrome.