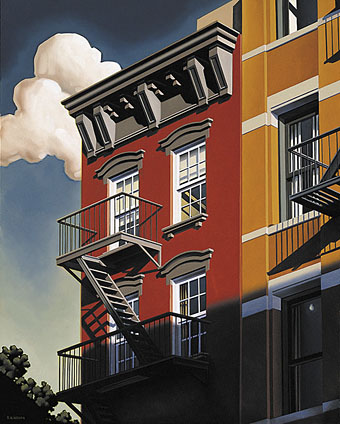 The Shadow by Kenton Nelson.
• The week in Coil: An interview by Derek de Koff, plus an extract from the new edition of England's Hidden Reverse by David Keenan. Opening later this month at Ludwig, Berlin, is Chaostrophy, a Coil-related exhibition/celebration.
• Strange Flowers remembers the incomparable Marchesa Casati, a woman who happens to feature in the book I've been designing and illustrating for the past few weeks. (More about that later.)
• "It wasn't about how we could meet the demands of the book, but rather how the book meets us." Ben Wheatley (again) talking to Jamie Sherry about bringing High-Rise to the screen.
• The latest release from Hawthonn is Sea-Spiral Spirit. The album has two accompanying videos: Pan Laws and Last Chimes From A Dormant Moon.
• Alan Moore celebrates Chris Petit's The Psalm Killer—a nerve-shredding Irish noir.
• Not a mix but a reading guide: The Brit Horror Mixtape collated by Mark West.
• More Penda's Fen: Graham Fuller on the Romantic tradition in British film.
• Previews of Tooth by Raime, "a steadfast concoction of brooding dystopia".
• "How big an issue is the nausea problem for Virtual Reality products?"
• FACT chooses 16 of the best songs powered by Sly and Robbie.
• Geeta Dayal on the pioneering computer music of Bell Labs.
• Mix of the week: Finders Keepers' Space Rock Special.
• Paul Schütze: The True Art of Fine Fragrance
• The Surrealist Legacy of Claude Lalanne
• Les illustrateurs de Baudelaire
• RIP publisher Peter Owen
• Perfumed Garden Of Gulliver Smith (1967) by John's Children | Perfumed Metal (1981) by Chrome | Fragrance (Ode To Perfume) (1981) by Holger Czukay