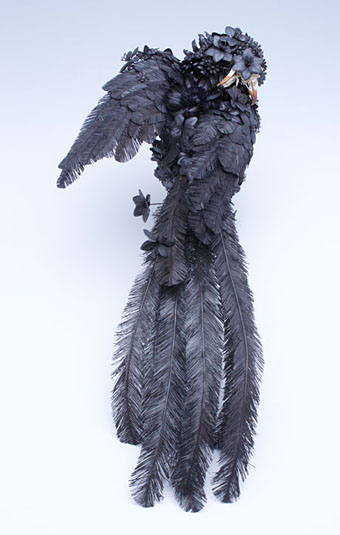 Raven (2015), a metal sculpture by Taiichiro Yoshida.
• "Lumia: Thomas Wilfred and the Art of Light [at the Smithsonian American Art Museum] restores Thomas Wilfred (1889–1968) to his rightful place in the history of modern art."
• At Brown Noise Unit: a fascinating, lengthy interview by Philip Kaberry with Stephen O'Malley of Sunn O))) et al, with particular focus on O'Malley's work with Japanese musicians.
• Erik Davis talks to scholar, writer, and mythographer William Rowlandson about Jorge Luis Borges, magical trees, Yankee mysticism, and the power of the weird and murky.
• The first issue of the world's first magazine of fantastic art and literature, Der Orchideengarten (previously), has been reprinted in full with additional English translation.
• At Muddy Colors: the month in covers for September/October which includes my cover for Under the Pendulum Sun by Jeannette Ng (and which is on sale now).
• At 3:AM Magazine: Adam Scovell talks to horror author Ramsey Campbell about the ghost stories of MR James.
• Paralysis: Live at Silent Night #8, a new release on (limited) cassette and digital by The House In The Woods.
• At Dangerous Minds: Jozef van Wissem buries the dead in his new video, Virium Illarum.
• PKD Files — A podcast about the life and work of Philip K. Dick.
• Russell Cuzner on The Strange World of Nurse With Wound.
• Clark Collis on the rise and fall of Fangoria.
• The North Star Grassman And The Ravens (1971) by Sandy Denny | Flight Of The Raven (1979) by Emerald Web | Kill The Great Raven (1979) by Snakefinger