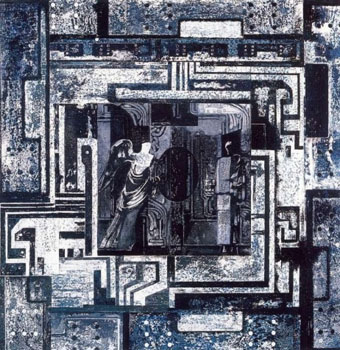 Icarus (1974–75) by Lili Ország.
• The Cabaret Voltaire albums released on the Virgin label in the 1980s have suffered the same shoddy treatment on CD as other Virgin reissues, a situation to be rectified in November with an extensive revisiting of the CV back catalogue. The long-overdue reappraisal will also include the release of Earthshaker, a collection of previously unavailable recordings from the Virgin period.
• It's that book again: Design Observer has the preface from Lolita — The Story of a Cover Girl: Vladimir Nabokov's novel in art and design, a book by John Bertram and Yuri Leving. At The Millions John Bertram talks to designer John Gall about the problems Lolita poses for cover designers.
• Jerry Lewis's The Day the Clown Cried (1972) has acquired legendary status over the years for the apparent tastelessness of its subject matter—a clown in Auschwitz—and the fact that its director/star has never allowed the film to be seen in public. This week some footage arrived on YouTube.
• Candy Bullets And Moon (1967), a one-off psychedelic collaboration between Don Preston and Meredith Monk.
• What's the collective term for many bookshops? Whatever it is, there's a lot of them in this Pinterest collection.
• At Dangerous Minds: Artist Gail Potocki's exploration of Alice in Wonderland and the passing of time.
• Anne Billson on the late Karen Black and why horror movies deserve our respect.
• Tobias Carroll on the Surreal life and fiction of Leonora Carrington.
• More details emerge about The Wicker Man – The Final Cut.
• Issue 35 of Arthur Magazine is now available for order.
• Graphics, drawings and collages by Jan Svankmajer.
• Every film poster designed by Saul Bass.
• Cabaret Voltaire: Just Fascination (1983) | Sensoria (1984) | I Want You (1985)