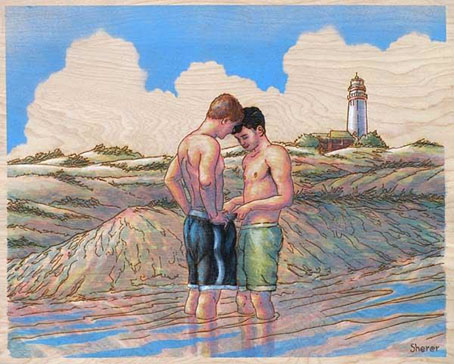 Ankle Deep, a pyrograph by Robert Sherer whose work is showcased at The Advocate.
• "Bertrand Russell wrote in 1932, during another period of economic distress, 'that immense harm is caused by the belief that work is virtuous, and that what needs to be preached in modern industrial societies is quite different from what always has been preached.' " From The Devilishness Of Idleness by Alex Gallo-Brown. Related: Owen Hatherley says "It's the 21st century – why are we working so much?"
• Restoring James Joyce's book of the night: Joyce biographer Gordon Bowker reviews the new edition of Finnegans Wake. Over at the NYRB Michael Chabon has a great piece about his own relationship with Joyce's novel that manages to make some very un-NYRB references to Cthulhu, the Necronomicon and Michael Moorcock's Elric. Related: Leopold's Day, a limited edition (and expensive) map of Dublin using typography to depict the people and places of Bloomsday.
Verbally, it feels as though Burroughs, Joyce and Beckett are text messaging haikus back and forth: 'beautiful/last/random fragments of poetry/finding syllables,/the waters fall/the waves fall/musical./pencil murmuring'.

James Kidd on A Humument by Tom Phillips.
• The Expanding Universe (1980), an album of early computer music by American composer Laurie Spiegel, will be reissued with additional recordings in September.
• A previously unreleased remix by Surgeon of Teenage Lighting by Coil has been made public.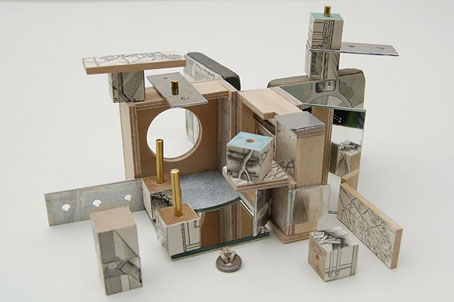 Small Museum of Nature and Industry (2010) by Susan Collard.
• Queer Kids In America, a photo project by M. Sharkey.
• Walter Benjamin's Grave: A Profane Illumination.
• The Visual Art and Design of Famous Writers.
• Nylon Sculptures by Rosa Verloop.
• Froschroom (1994) by Mouse on Mars | Bib (1995) by Mouse on Mars | Cache Coeur Naïf (1997) by Mouse on Mars.