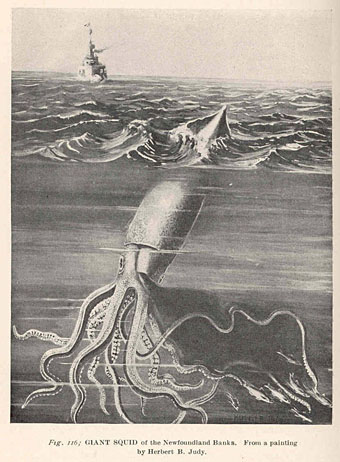 Giant Squid of the Newfoundland Banks. From a painting by Herbert B Judy.
Today's Giant Squid comes to you courtesy of the University of Washington's Digital Collection and their Freshwater and Marine Image Bank. This book plate is from Sea-shore Life; The Invertebrates of the New York Coast and the Adjacent Coast Region (1905) by Alfred Goldsborough Mayor, and the Internet Archive happens to have copies of the entire book.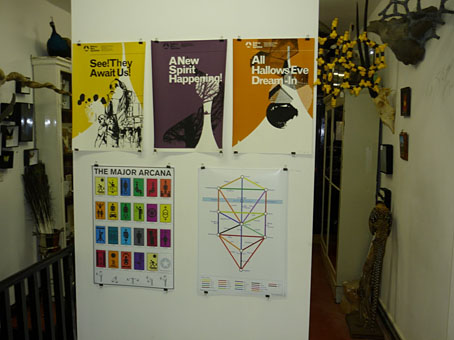 Which facts have nothing whatsoever to do with Ken Hollings' photos of the Strange Attractor Salon which is in its final week at Viktor Wynd Fine Art, London. I was pleased to see the picture above which shows my pieces on the same wall as work by Julian House whose covers for the Ghost Box CDs I've enthused over in the past. Strange Attractor curator Mark Pilkington has posted further photos on his Flickr pages as has artist Ali Hutchinson whose beautiful work is also featured there.
Previously on { feuilleton }
• Strange Attractor Salon
• Readouts
• Welcome to Mars
• The Séance at Hobs Lane
• SAJ again
• Strange Attractor Journal Three
• Ghost Box
• The Major Arcana