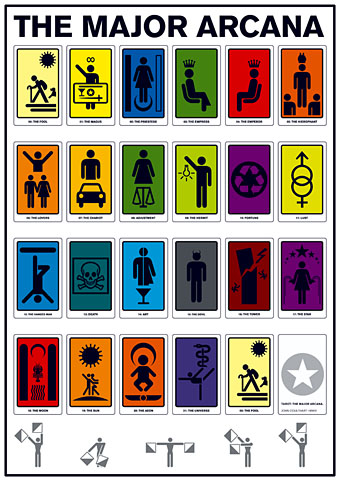 Tarot designs proliferate at a seemingly unstoppable pace (you can see a selection of them here) so it's probably fair to say that the world doesn't need more of them. However, most modern designs are pastiches or fantasy-oriented works that tend towards an elaboration even more baroque than some of the older designs. My As Above, So Below poster was an earlier attempt at presenting traditional occult schematics in a modern setting. The challenge with this Tarot design was to try and create a Major Arcana set using nothing but international symbol pictograms or dingbat sets. It succeeds for the most part although I had to cheat a couple of times (creating a light bulb from scratch, for instance) and it's debatable how recognisable these cards would be without their labels. I was following the Aleister Crowley scheme that renames a few of the cards, and some of his designs, especially The Aeon which replaces The Last Judgment, are rather resistant to simplification.
I would have uploaded this to a new CafePress shop as a poster design but their servers don't seem to like my big jpegs just now. Maybe later.
Update: It finally uploaded. This is the shop.