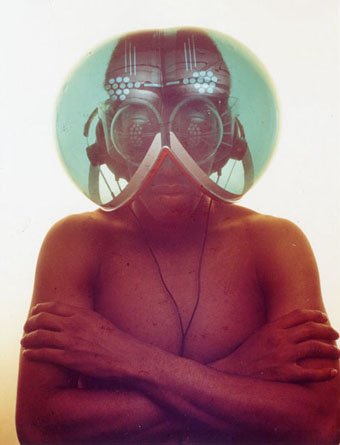 Environment Transformer/Flyhead Helmet by Haus-Rucker-Co (1968). From Hippie Modernism at the Walker Art Center, Minneapolis.
• From 2006: Weird Tales: The Strange Life of HP Lovecraft. Geoff Ward examines Lovecraft's life and work for BBC Radio 3 with contributions from Neil Gaiman, ST Joshi, Kelly Link, China Miéville and Peter Straub. Meanwhile, Ned Beauman wonders whether Ford Madox Ford is "as scary as Lovecraft".
• Alexei German's years-in-the-making feature film, Hard to be a God (previously), receives a UK release this week. Paul Duane reports on an overwhelming viewing experience, while Nigel Andrews says it "may be the greatest film since the millennium began".
• Mixes of the week: Adventures In Sound And Music, 30 July 2015, hosted by Joseph Stannard, and RCMIX9 by worriedaboutsatan.
As Nabokov insisted, "Literature is invention. Fiction is fiction. To call a story a true story is an insult to both art and truth." The genre thrives because its deceptions are liberating. For Wood, the thrill of reading fiction is intimately connected with the awareness that fiction constitutes "an utterly free space, where anything might be thought, anything uttered." The excitement comes when, as readers, we're allowed to participate in this freedom and experience the fiction imaginatively, without being required to believe that it is true.

Joanna Scott on The Virtues of Difficult Fiction
• "Writing used to be a solitary profession. How did it become so interminably social?" asks Meghan Tifft.
• The original, real-life dystopian cityscape of Kowloon Walled City, and the artwork it inspired.
• The Long, Lonely Walk: Nick Ripatrazone on hallways in horror films.
• New cover designs for the Essentials range from Penguin Books.
• Lemi Ghariokwu: "How I designed Fela Kuti's album covers".
• "Do CDs sound better than vinyl?" asks Chris Kornelis.
• Magic Fly (1977) by Space | Human Fly (1978) by The Cramps | I Am The Fly (1978) by Wire