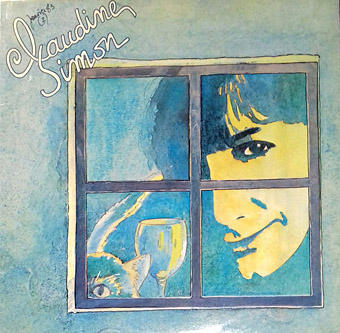 Claudine Simon (1980) by Claudine Simon.
Continuing an occasional series about artists or designers whose work has appeared on record sleeves. Belgian artist François Schuiten is a familiar name here, being the co-creator with Benoît Peeters of the Obscure World, one of my favourite zones of fantastic invention. The Obscure World has grown to become a multimedia endeavour so Schuiten's involvement with some of the later entries in this post goes beyond providing the cover art to being connected to the music itself.
De Wolkentrapper (1983) by Herman van Veen.
Herman van Veen is a Dutch writer and singer who produced a number of albums and singles in the 1980s featuring Schuiten cover art. The gravity-defying people are from an early comic strip unattached to the Obscure World mythos, Going to Pieces.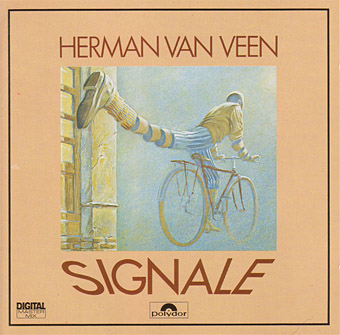 Signale (1984) by Herman van Veen.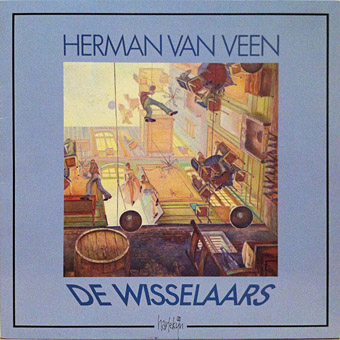 De Wisselaars (1985) by Herman van Veen.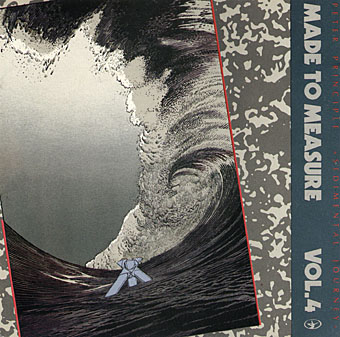 Sedimental Journey (1985) by Peter Principle.
The Obscure World makes its cover debut on this solo release by the late Peter Principle, bass player in Tuxedomoon. Principle was American but Tuxedomoon were based at the time in Europe, and their record label, Crammed are Belgian. Obscure World aficionados will recognise the structure about to be submerged by a vast wave as the Network, an inexplicable object first seen in Fever in Urbicand (1985).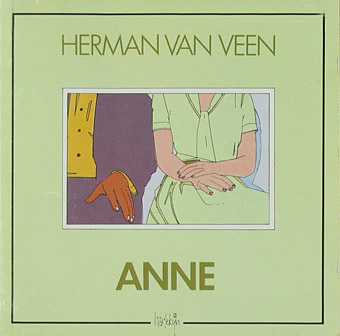 Anne (1986) by Herman van Veen.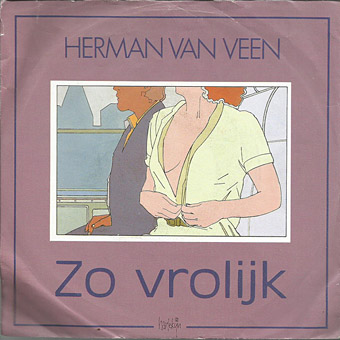 Zo Vrolijk (1986) by Herman van Veen.
Megapoles (1999) by Procédé Rodesco Letort.
And speaking of Urbicand, Megapoles is an album of short instrumentals by Bruno Letort and Stefan Rodesco the last of which is titled Urbicand. That's also a panel from the Fever in Urbicand story on the cover. Interior notes by Benoît Peeters.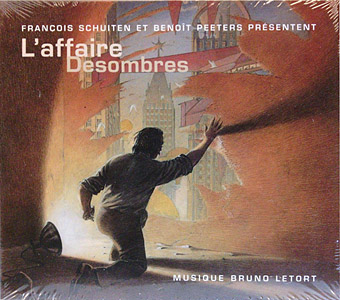 L'Affaire Desombres (2001) by François Schuiten Et Benoît Peeters, Bruno Letort.
Bruno Retort's soundtrack for a "multimedia enigma/show" about Auguste Desombres, an artist of the Obscure World.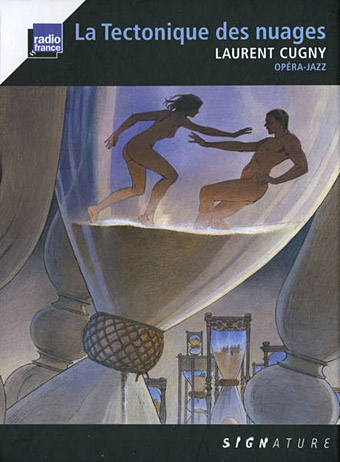 La Tectonique Des Nuages (2010) by Laurent Cugny.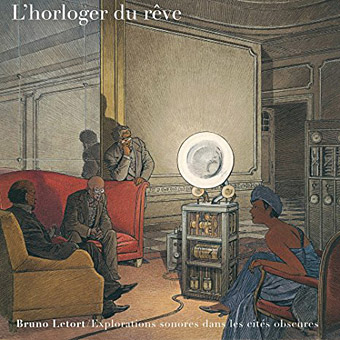 L'Horloger du Rêve (2013) by Bruno Letort.
More soundtracks or imaginary scores by Bruno Letort for the Obscure World and its inhabitants. Le Monde Sonore De François Schuiten was a limited double-vinyl release.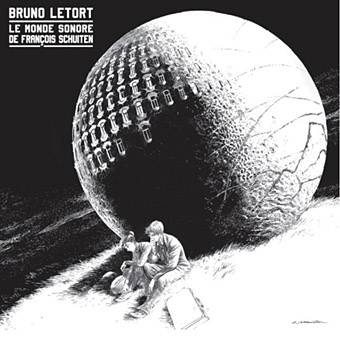 Le Monde Sonore De François Schuiten (2014) by Bruno Letort.
Ten Songs About Real Utopia (2015) by Daniel Erdmann / Samuel Rohrer / Vincent Courtois / Frank Möbus.
An album of contemporary jazz.
Mechanics (2015) by Sylvain Rifflet.
Another album of contemporary jazz with a final nod to the Obscure World in its view of one of the enormous mechanical machines of Armilia.
Elsewhere on { feuilleton }
• The album covers archive
Previously on { feuilleton }
• Le Dossier B by Schuiten and Peeters
• Urbatecture
• Echoes of the Cities
• Further tales from the Obscure World
• Brüsel by Schuiten & Peeters
• La route d'Armilia by Schuiten & Peeters
• La Tour by Schuiten & Peeters
• La fièvre d'Urbicande by Schuiten & Peeters
• Les Murailles de Samaris by Schuiten & Peeters
• The art of François Schuiten
• Taxandria, or Raoul Servais meets Paul Delvaux