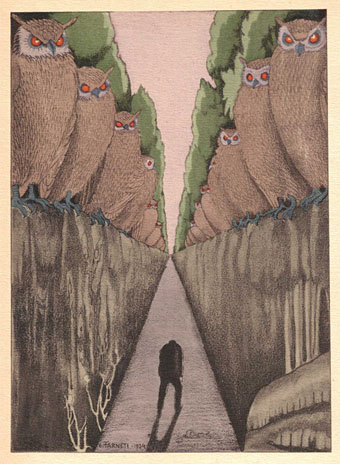 The Owls by Carlo Farneti for a 1935 edition of Les Fleurs du Mal. Via Beautiful Century although the scans probably came originally from 50 Watts.
• "…a project that seemed under a curse comprising greed, peculiar French copyright laws, jealousies and grudges, bad judgment, complicated ownership disagreements, a messy estate, and a list of individuals who believed they had some legal, financial, moral, or artistic right to the film itself." Josh Karp on the tangled history of The Other Side of the Wind, always the most interesting of Orson Welles' unfinished feature films.
• Producer Conny Plank is remembered for his work with a host of German artists but he also recorded a session with Duke Ellington and His Orchestra in 1970. Grönland Records is releasing the session in July, and they've posted Afrique (take 3 vocal) as a taster.
• "And that's what a lot of social media by authors is starting to look like, to feel like: being smacked in the face, repeatedly, by hundreds of fish." Delilah S. Dawson wants authors to leave off the incessant self-promotion.
"In everybody, there is an inner bestiary," she claimed, and her pictures are overrun with animals and animal-headed creatures; sometimes sinister, sometimes acting as guides to the unconscious, as in The Pomps of the Subsoil (1947). As her interests grew more hermetic her paintings abandoned all trace of the world beyond. If the figures occupy any sort of space it's rarely more than the planes of a room in muted browns or greys, and in many the surface is overlaid with geometric patterns that seem to imply some mystical framework.

Alice Spawls on the art and life of Leonora Carrington
• "How a pro-domme, a Russian diplomat, US intelligence and Mary Tyler Moore's landscaper conspired to create a dance classic." Dave Tompkins on The Dominatrix Sleeps Tonight.
• "Battersea, in fact, is a fairly simple climb, made ready by the builders who are destroying it." Katherine Rundell on climbing Battersea Power Station at night.
• Mixes of the week: Secret Thirteen Mix 148 by Mlada Fronta, and The Ivy-Strangled Path, Volume V, by David Colohan.
• Erté illustrates a gay romance in Lytton Strachey's Ermyntrude and Esmeralda (1913 but not published until 1969).
• Dangerous Minds looks back at "The most unusual magazine ever published", Man, Myth & Magic.
• David Chase on the writing, directing and editing of the final scene of The Sopranos.
• Magic Man (1969) by Caravan | The Myth (1982) by Giorgio Moroder | Magick Power (1987) by Opal