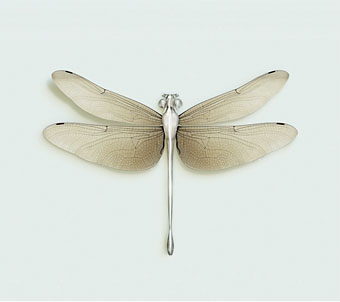 "Chloromgonfus detectis, a dragonfly that can detect volatile pollutants." A speculative insect by artist Vincent Fournier.
The annual review of artists/designers/photographers featured in the weekend posts should have run at the end of December but MR James got in the way. Big thanks, and happy new year to Form is Void and Beautiful Century for pointing the way to many of these people.
Two cover designs from Eliash Strongowski's 30 Days—30 Covers project.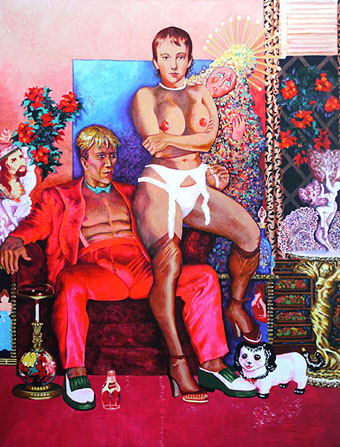 Pink Boy by Melinda Gebbie.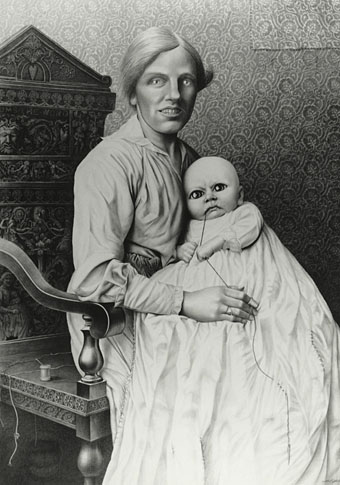 Seam Stress (1987) by Laurie Lipton. The Drawings of Laurie Lipton is out now from Last Gasp.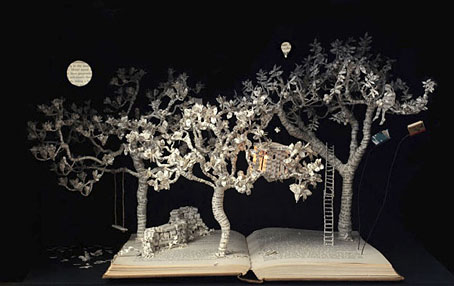 The Baron in the Trees (2011), a book-cut sculpture by Su Blackwell.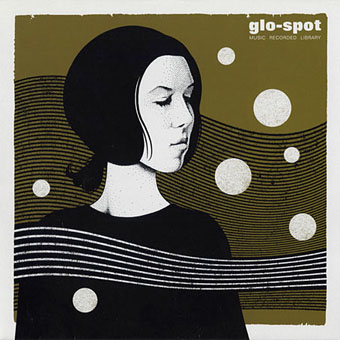 Delia Derbyshire (2007) by Iker Spozio.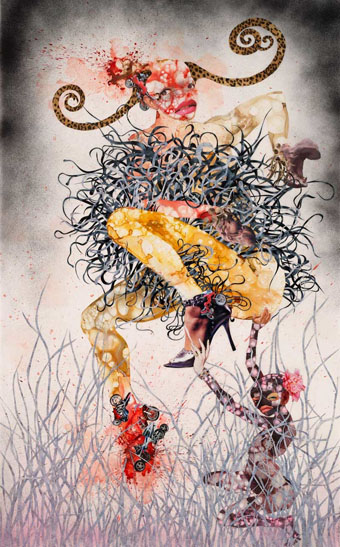 One Hundred Lavish Months of Bushwhack (2004) by Wangechi Mutu.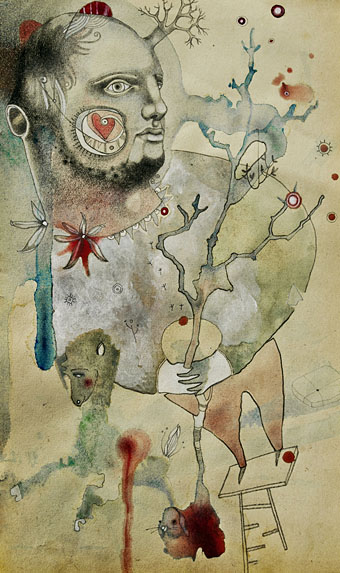 L'uomo che piantava gli alberi (2013) by Sofia Rondelli.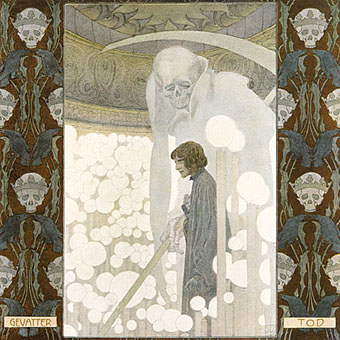 Gevatter Tod (Godfather Death, 1905) by Heinrich Lefler.

La table qui tourne (1943) by Robert Doisneau.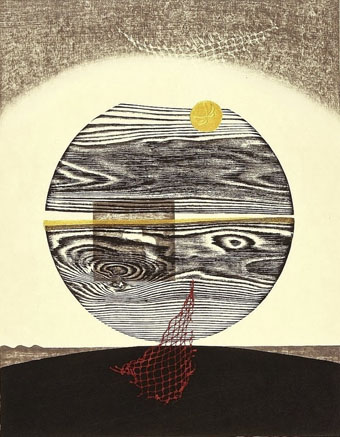 Mirror of Water (1981) by Reika Iwami.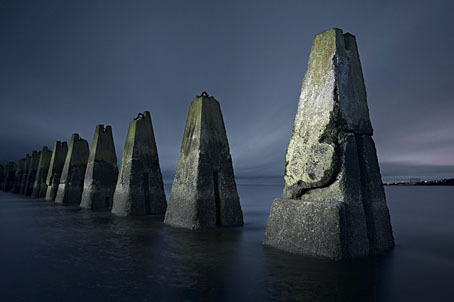 One of Jonathan Andrew's photos of coastal bunkers and concrete defences from the Second World War.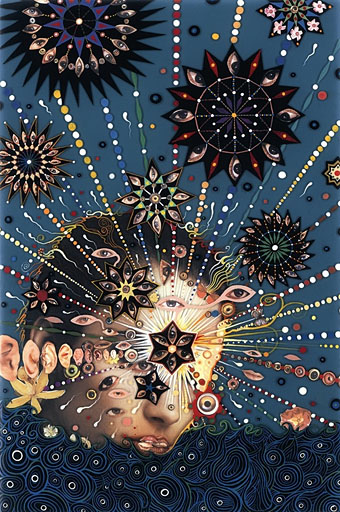 Summer Swell (2007) by Fred Tomaselli. The artist is interviewed at AnOther.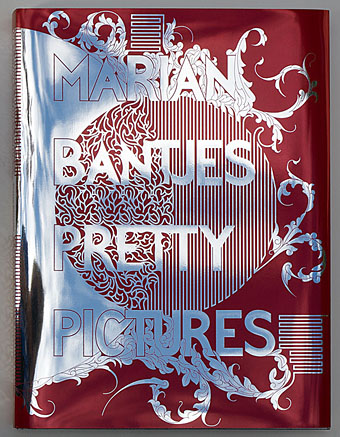 Pretty Pictures, a new book by designer Marian Bantjes.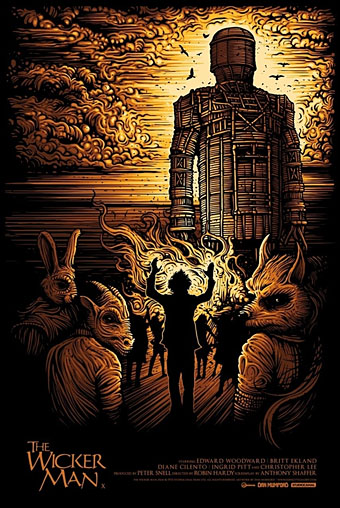 A new Wicker Man poster by Dan Mumford appears on the cover of the DVD/BR reissues. Prints are available.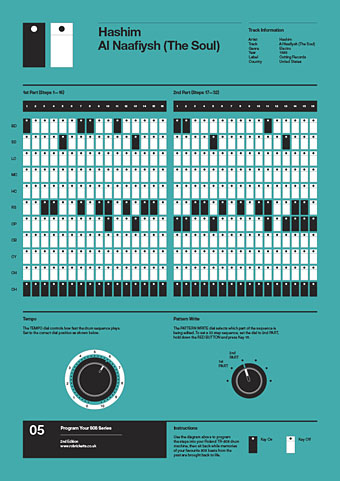 Al-Naafiysh (The Soul) by Hashim. From the Program Your 808 poster series by Rob Rickets.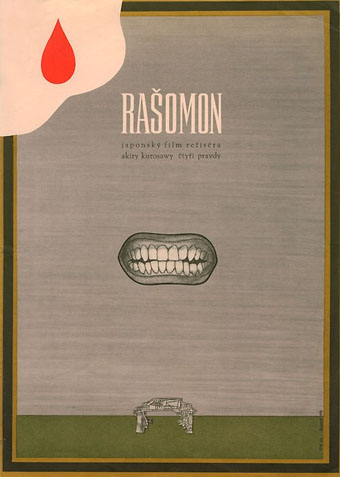 This week PingMag was looking at Czech film posters. This one by Bedrich Dlouhy is for the belated 1970 release of Kurosawa's Rashomon.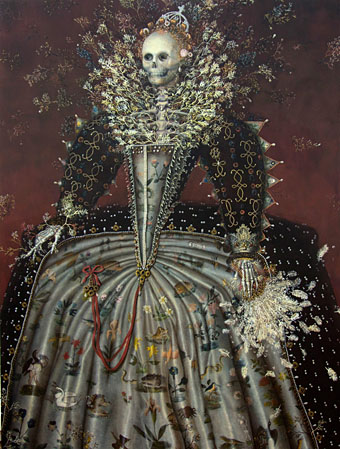 Heartbeat of the Death – Queen Elizabeth the First (2013) by Haruko Maeda.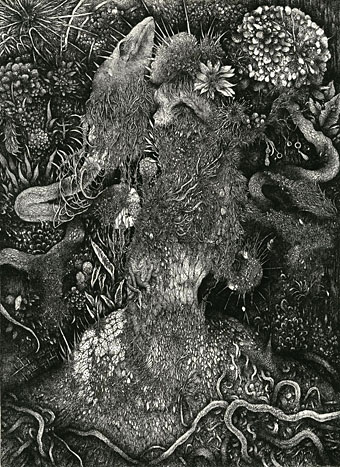 Dress (2012) by Nao Ikuma.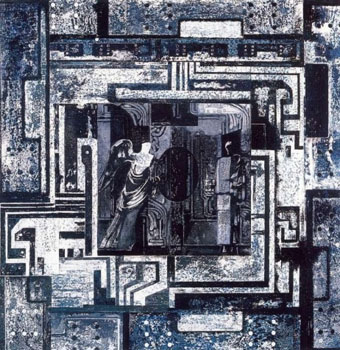 Icarus (1974–75) by Lili Ország.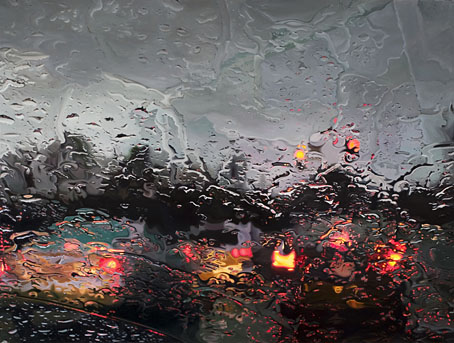 Complete Stop (2008), an oil painting by Gregory Thielker from his Under the Unminding Sky series.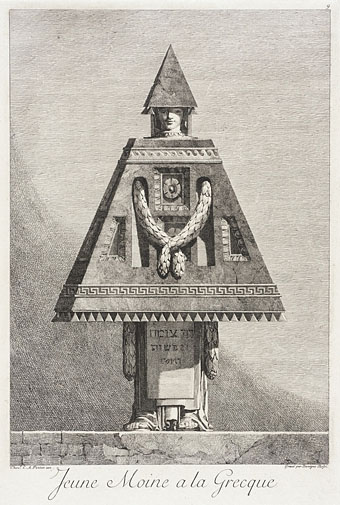 Jeune moine à la Grecque (1771) by Benigno Bossi.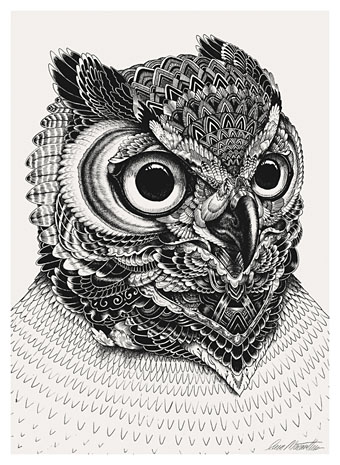 Owl portrait by Iain Macarthur.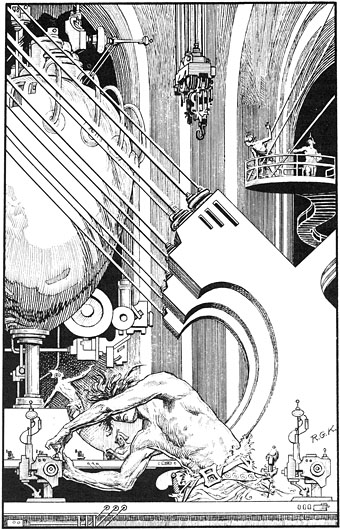 Roy Krenkel illustrates Tales of Three Planets by Edgar Rice Burroughs, 1964.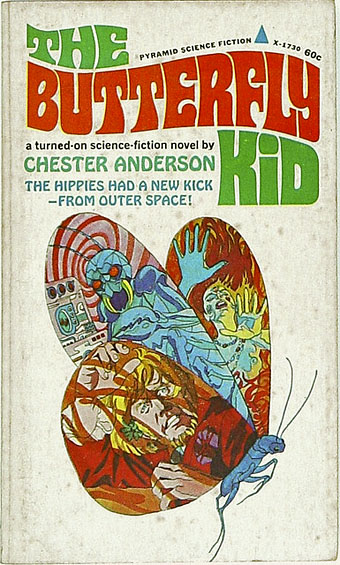 Cover illustration by Gray Morrow, 1967. One of the less exploitative examples from a collection of hippy book covers.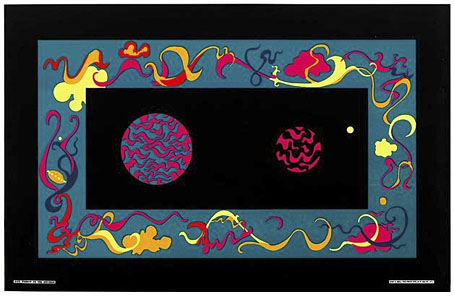 Window to the Universe (1967) by Roberta Bell. From Summer of Love: Psychedelic Posters from SCMA at the Smith College Museum of Art, Northampton, MA.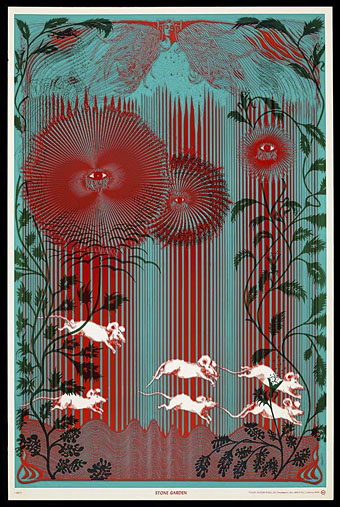 Stone Garden (1967) by Wilfried Sätty.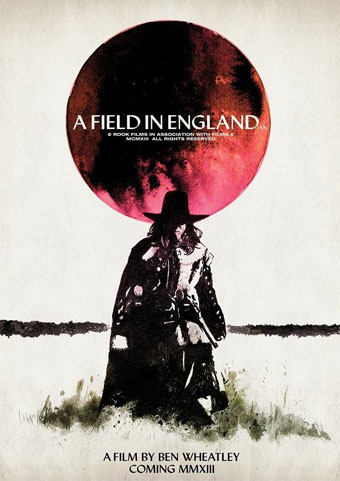 Poster by Luke Insect & Kenn Goodall.
The Julian House cover art for a collaboration between John Foxx and Belbury Poly and The Advisory Circle.
Walpurgisnacht (1917) by Amadeus. A drawing that could easily be from the late 1960s. If anyone knows the full name of the artist, please leave a comment.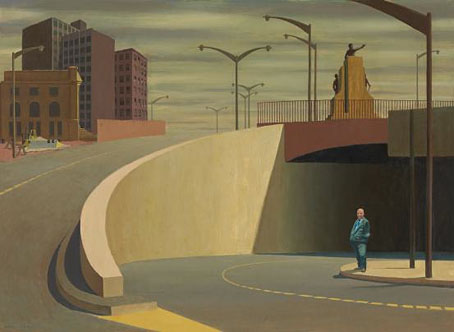 Cahill Expressway (1962) by Jeffrey Smart.
Ekaterina Panikanova paints on books.
Le Cadavre Exquis by Yukio Michishita. As featured in The Purple Book: Sensuality & Symbolism in Contemporary Art & Illustration by Angus Hyland & Angharad Lewis.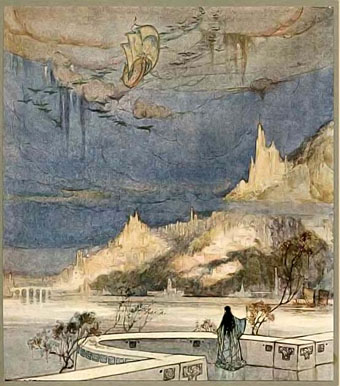 The Arrival on Mars, an illustration from The Ship That Sailed to Mars (1923) by William Timlin.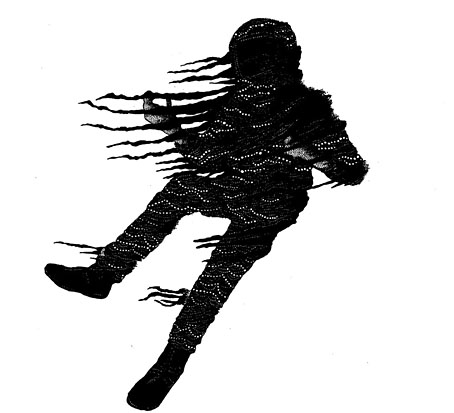 Untitled drawing by Sophie Penrose.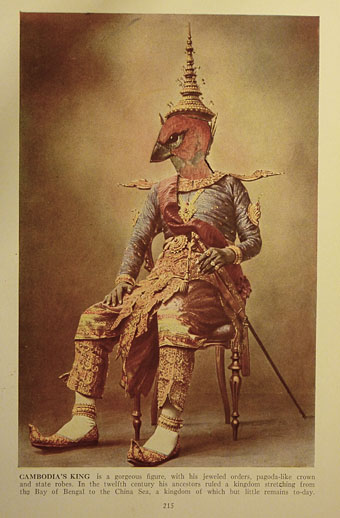 Collage by Jeneleen Floyd.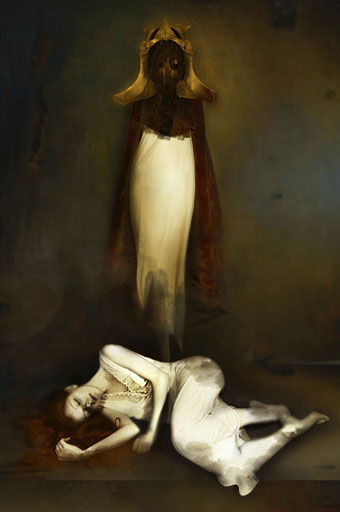 El Banquete Magnético (2011) by Cristina Francov.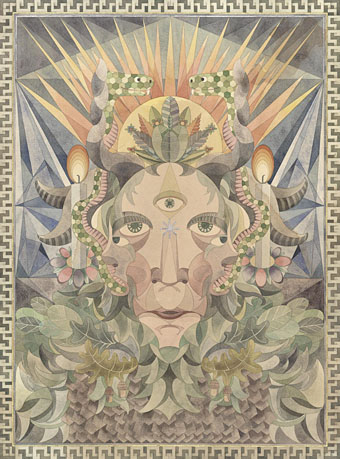 Pan II (2012) by Fredrik Söderberg.
Elektrik Karousel, a release on the Ghost Box label by The Focus Group. "For a clue to its moods, think Czech animation, Italian Giallo, early Radiophonics, HP Lovecraft stories, 1960s underground cinema, Lewis Carroll and baroque psych." Julian House's package design is "heavily inspired by 1960s underground press and conceived as a kind of mind altering DIY board game".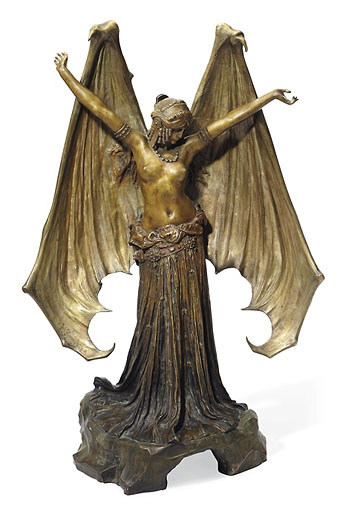 Le Vampire (c. 1903) by Agathon Léonard.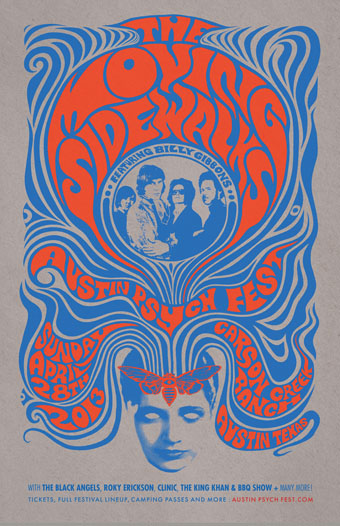 Poster design by Mishka Westell for the Austin Psych Fest.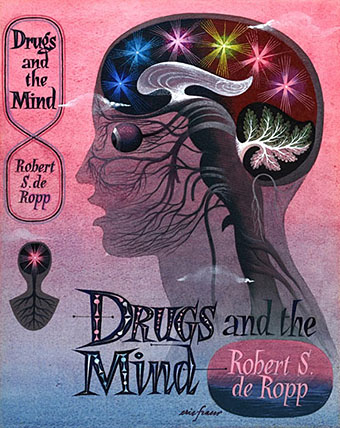 Drugs and the Mind (ii), a cover design from 1957 by Eric Fraser (1902–1983) whose illustrations and designs are in exhibition at the Chris Beetles gallery, London.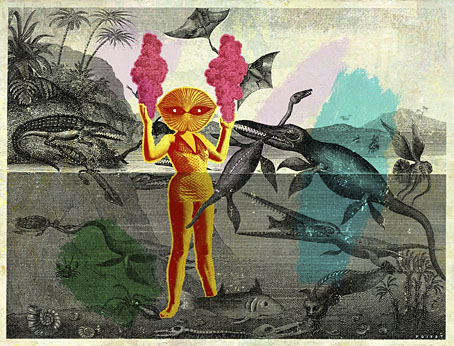 Collage by Chloé Poizat.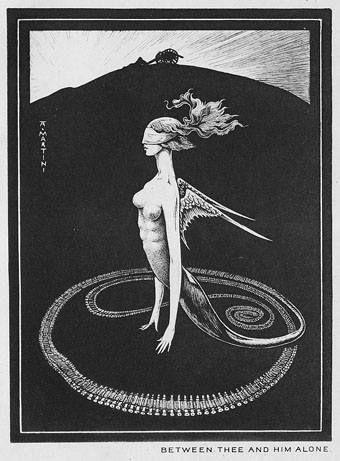 An illustration by Alberto Martini for Raw Edges (1908) by Perceval Landon.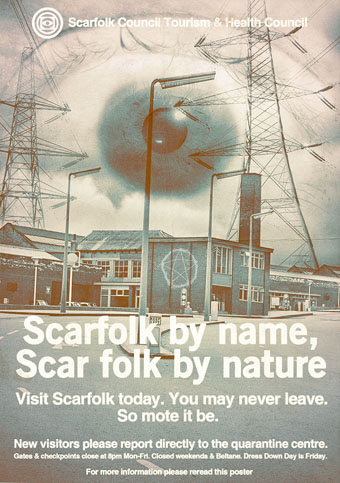 Scarfolk is a home from home, especially if you grew up in the 1970s. The mayor of the rabies-afflicted town, Richard Littler, talked to Creative Review about his unheimlich design project.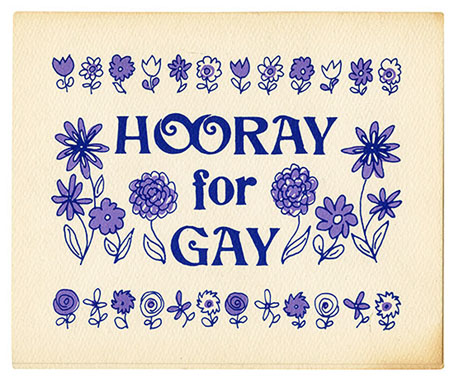 Hooray for Gay, an exhibition of pre-Stonewall images at Boo-Hooray, NYC.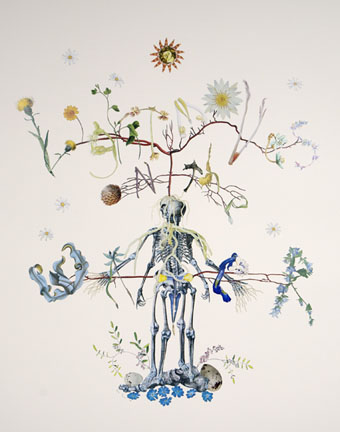 Light Moves on the Water (2010), a collage by Alexis Anne Mackenzie.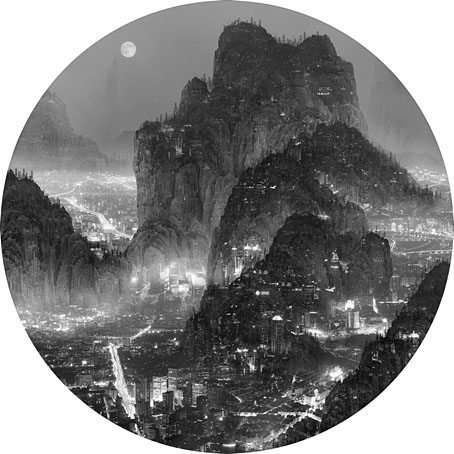 Untitled art by Yang Yongliang. There's more at But Does It Float.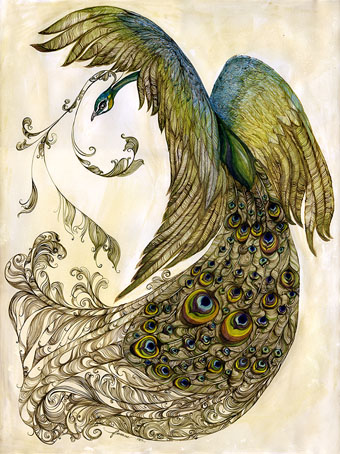 One of A Pair of Peacocks (2012) by Feanne.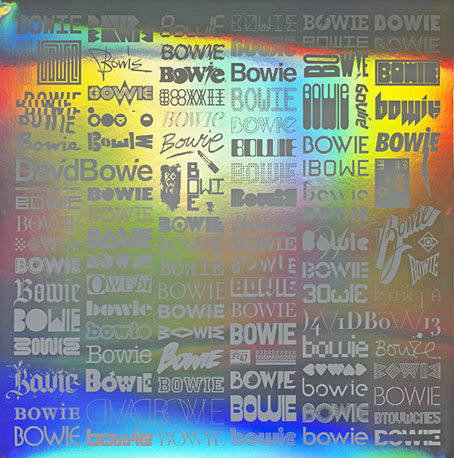 It's not cheap but it's rather tasty: The Changing Faces of Bowie, a limited print at the V&A shop produced for the David Bowie exhibition.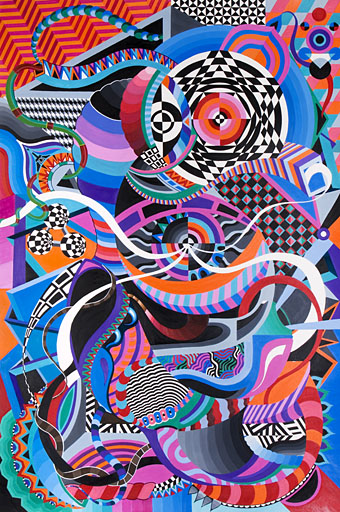 Quantum Entanglement by Duda Lanna.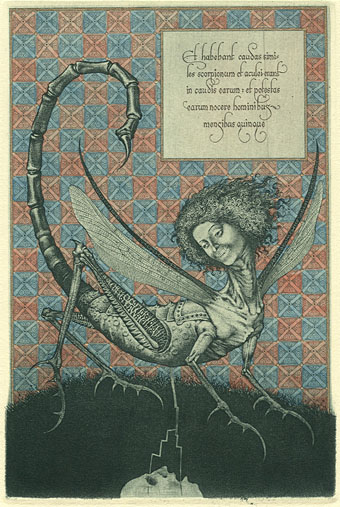 Bestia Apocalypsi (2000) by Konstantin Kalynovych.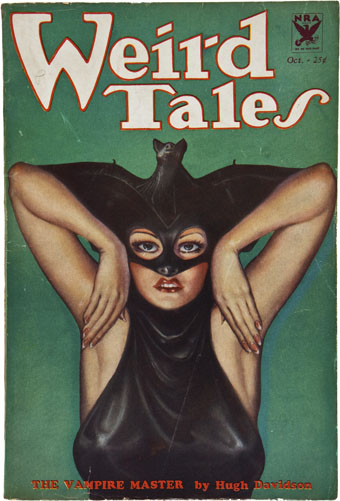 Weird Tales, October 1933. Cover art by Margaret Brundage.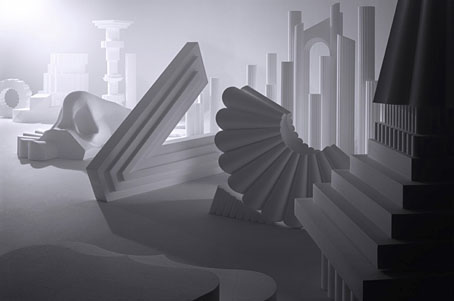 Ruins 3 by Rachel Thomas and Dan Tobin Smith.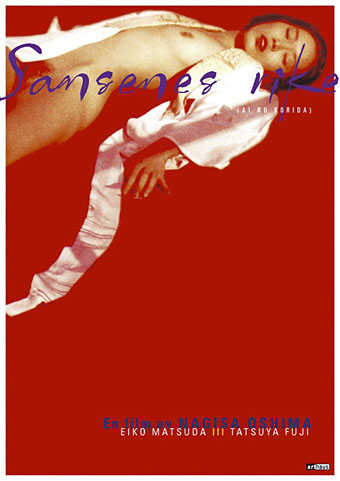 Ai No Corrida poster design by Egil Haraldsen (2001).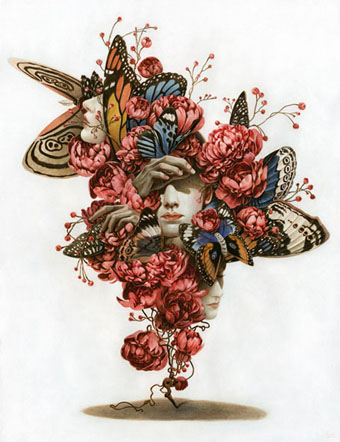 From the Beautiful Faces series (2012) by Tran Nguyen.