Words and Music (1975) by Tom Phillips.
Two related posts is coincidence, three is a series. Earlier posts from the past couple of weeks looked at album covers created by designers better known for their work in other areas. Tom Phillips is a British artist, writer and composer who I continue to insist is one of our greatest living artists, a figure of singular intelligence, invention and versatility whose lack of grandstanding has never raised his profile to, say, the Hockney level. Phillips' involvement with the music world, both as composer/librettist, and his oft-cited position as Brian Eno's art teacher in the 1960s, have led to the creation of a handful of record and CD covers from the mid-70s on. Before we get onto those I'll note that Phillips has a piece in the latest edition of Eye magazine where he reviews a book of postcards from the Wiener Werkstätte. I happen to have a review in the same issue looking at a republished Kenneth Anger study.
Words and Music above has a January 1975 release date although the cover clearly states "LXXIV" in Phillips' customary stencil lettering. The pressing was limited to 500 copies and doesn't seem to have been reissued since which means that copies for sale command excessive prices. Side A comprises recordings of Phillips' compositions while on the flip the artist/author reads extracts from A Humument, the treated book/experimental novel which is not only his most celebrated work but a project whose influence permeates all of the Phillips oeuvre, including the sleeve art.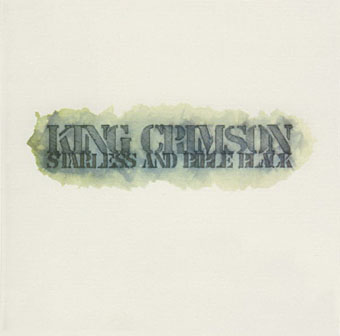 Starless and Bible Black (1974) by King Crimson.
A year before Words and Music, Phillips created the cover art for this King Crimson album, and he's also credited with the design. The fractured stencil lettering on the gatefold interior resembles similar effects in some of Phillips' paintings while on the back cover there's a tiny extract from A Humument bearing the enigmatic phrase "this night wounds time". I've wondered for years how this cover came about: Robert Fripp often selects the art for King Crimson's covers so was Phillips his choice as artist/designer? Or was it a result of the Fripp and Eno connection? If anyone knows the answer, please leave a comment.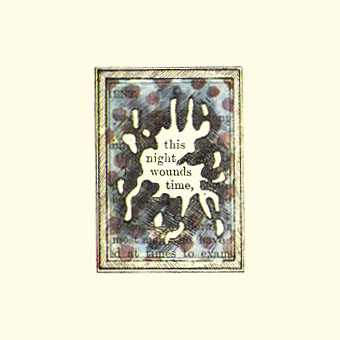 Another Green World (1975) by Brian Eno.
And speaking of Eno, the painting on Another Green World is probably the most visible example of Phillips sleeve art, a detail from After Raphael (below). Phillips explains the genesis of the original work here.
After Raphael (1972) by Tom Phillips.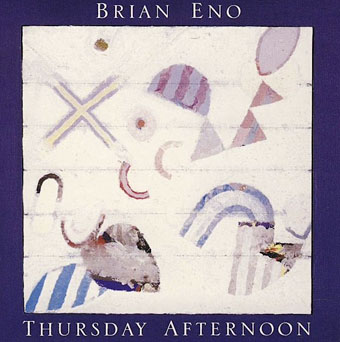 Thursday Afternoon (1985) by Brian Eno. Painting by Tom Phillips, design by Russell Mills.
An abstract watercolour miniature fills out the CD insert for one of Eno's finest albums.
IRMA (1988) by AMM & Tom Phillips.
IRMA is the opera Phillips composed in 1969 with a libretto created via extracts from A Humument. The first recording appeared on Eno's Obscure label in 1978 where it had one of the collage sleeves designed by John Bonis for most of the records in that series. In his book Works and Texts (1992) Phillips expresses dissatisfaction with the way the composition was credited to arranger Gavin Bryars with "libretto by Fred Orton". The new recording by AMM featured John Tilbury who played on Words and Music, and is a lot closer to Phillips' original intention. Despite Phillips' reservations I quite like the Obscure version which you can hear for yourself at Ubuweb.
Update: Thanks to Lucy Drury for pointing to some recent Phillips covers I'd missed.
Album, EP and single covers for Dark Star (1998–99).
British band Dark Star had a short career but several of their releases come with Humument-style cover art.
Six of Hearts (1999) by Tom Phillips.
A recording of another Phillips composition with the familiar Humument cover treatment.
Voices (2006) by Tarik O'Regan.
Composer Tarik O'Regan's recent opera adaptation of Heart of Darkness features a libretto by Tom Phillips so it's no surprise the artist has provided a cover for another O'Regan opus. Heart of Darkness has been well-received as the reviews here demonstrate.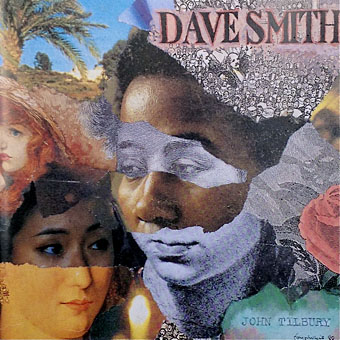 Dave Smith's First Piano Concert (1988).
And another one. Thanks to David Jennings for the scan.
Elsewhere on { feuilleton }
• The album covers archive
Previously on { feuilleton }
• Thursday Afternoon by Brian Eno
• A TV Dante by Tom Phillips and Peter Greenaway
• 20 Sites n Years revisited
• 20 Sites n Years by Tom Phillips