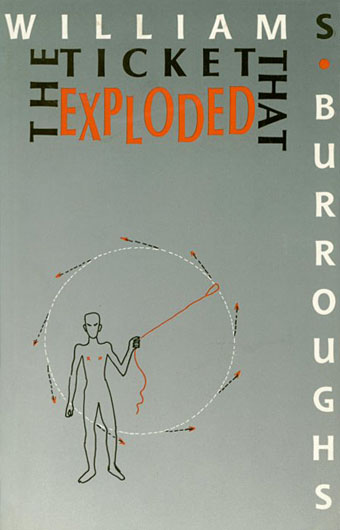 The Ticket that Exploded. Cover design by Thomi Wroblowski for a John Calder edition, 1985.
William S Burroughs: A Man Within is a feature-length documentary by Yony Leyser, and is, so the makers say, the first posthumous documentary about the always essential writer. Howard Brookner's 1983 film, Burroughs, is probably definitive where the biography is concerned since Brookner was fortunate to get most of the key surviving Beats, family members, and allies while they were still around. Leyser's trailer looks interesting, however (I'm hoping the film isn't merely a parade of celebrities and soundbites), and it's things like this which pass on the message of Burroughs' continued importance to a new generation.
The film features never before seen footage of William S. Burroughs, as well as exclusive interviews with his closest friends and colleagues including John Waters, Genesis P-Orridge, Laurie Anderson, Peter Weller, David Cronenberg, Iggy Pop, Gus Van Sant, Sonic Youth, Anne Waldman, George Condo, Hal Willner, James Grauerholz, Amiri Baraka, Jello Biafra, V. Vale, David Ohle, Wayne Propst, Dr. William Ayers, Diane DiPrima, Donovan, Dean Ripa (the world's largest poisonous snake collector), and many others, with narration by actor Peter Weller, and soundtrack by Sonic Youth.
Release is slated for later this year. Meanwhile, there's another trailer on YouTube for a Burroughs'-inspired short, The Japanese Sandman, based on WSB's quest for the drug yage in the jungles of Panama. For an explanation of the title, consult the Reality Studio.
Previously on { feuilleton }
• The Final Academy
• William Burroughs book covers
• Towers Open Fire