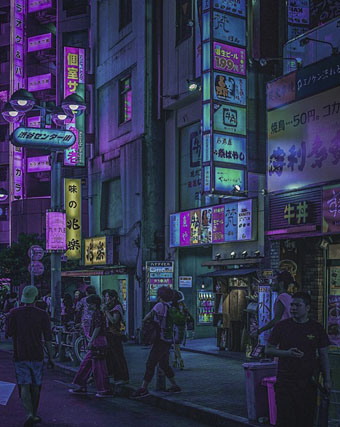 Night Out, Shibuya, a photograph by Yoshito Hasaka. One of a remarkable series.
• Rixdorf Editions is a new publishing venture from Strange Flowers' James Conway which "…aims to cast light on an era which is misunderstood to the extent that it is thought of at all. I speak of the German Empire, specifically the Wilhelmine period from 1890 to 1918." The first two titles, both translated by Conway himself, are Berlin's Third Sex (1904), a study of the city's queer demi monde by the pioneering Magnus Hirschfeld; and The Guesthouse at the Sign of the Teetering Globe (1917), a collection of strange stories by Franziska zu Reventlow.
• Patrick McGoohan's enigmatic TV series, The Prisoner, premiered 50 years ago this week. Among the series' many stylistic hallmarks was the use of Berthold Wolpe's Albertus typeface, as detailed at We Made This.
• Three of Bill Nelson's home-produced instrumental albums from the 1980s—Sounding The Ritual Echo, Das Kabinet, and La Belle Et La Bête—are reissued in November.
• Photos by Heinrich Klaffs of German group Faust performing live (for the first time?) in 1971. Klaffs' other photos are worth looking at as well.
• Mixes of the week: XLR8R Podcast 509 by Laylla Dane, and Secret Thirteen Mix 231 by New Hip Tiki Scene.
• At Spoon & Tamago: Altered landscapes meticulously rendered in pencil by Shinji Ogawa.
• "Why are UK and US book jackets often so different?"asks Danuta Kean.
• Samantha Manzella on eight of the world's remaining gay bookstores.
• At greydogtales: F. Marion Crawford & the Screaming Skull.
• Tunnel View, a previously unheard demo by Broadcast.
• Zealandia: Earth's Hidden Continent
• Seeland (1975) by Neu! | Neu Seeland (1992) by Terminal Cheesecake | Osprey's Odyssey (2010) by Seeland