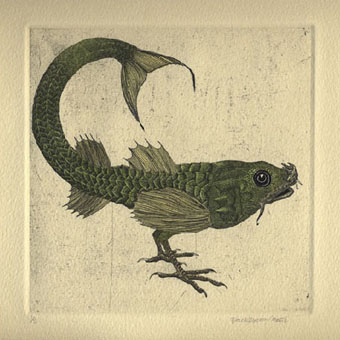 Untitled etching by Briony Morrow-Cribbs.
• An interview with author Paul Russell whose new novel, The Unreal Life of Sergey Nabokov, concerns the gay brother of the celebrated Vladimir.
• Joseph Cornell turns up again in a report at Strange Flowers about Locus Solus, an exhibition in Madrid devoted to the work of Raymond Roussel.
• Night of Pan: 42 seconds of occult freakery by Bill Butler featuring Vincent Gallo, Twiggy Ramirez plus (blink and you miss him) Kenneth Anger.
• Jan Svankmajer talks (briefly) about his new film Surviving Life. A subtitled trailer is here; the very different Japanese trailer is here.
• Cormac McCarthy turns in his first original screenplay. I'd rather he turned in a new novel but any new Cormac is better than none at all.
• Barnbrook show off another design for the latest CD from John Foxx & The Maths.
• Melanie McDonagh asks "Where have all the book illustrators gone?"
• Congrats to Evan for getting his poetry in the New York Times.
• Margaret Atwood on writing The Handmaid's Tale.
• Subliminal Frequencies: An Interview With Pinch.
• The (Lucas) Cranach Digital Archive
• The M.O.P. Radionic Workshop
• Music promos of the week from the Weird Seventies: All The Years Round (1972) by Amon Düül II, and Supernature (1977) by Cerrone.