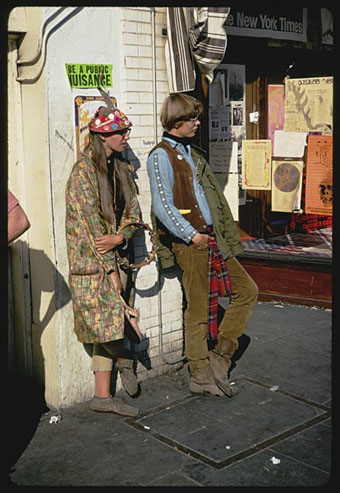 Haight Street hippies, San Francisco, Oct. 26, 1967. From the Charles W. Cushman Photograph Collection.
Continuing the psychedelic mega-mix based on Jon Savage's list of "100 mind-expanding masterpieces" (see this post). The fifth of the six mixes is the second visit to the USA, and features songs from the years 1967 to 1968 arranged in chronological order. As before, the selections from the Savage 100 are in bold, and I've added notes about my additions or amendments.
Savage's selections for the USA can be more arguable than those in the UK list. As I noted earlier, UK singles are easily identifiable for being effects-heavy studio creations. The US scene evolved out of the dance halls of San Francisco, the same halls that also fuelled the demand for all the trend-setting psychedelic poster art. Some of the bands could be just as adventurous in the studio but the sound at this point is more a transcription of the live performance. In other songs the "psychedelic" quality is a result of context, as with Otis Redding who played at the Monterey Pop Festival, and is singing here about the San Francisco Bay, but isn't really a psychedelic artist.
US Psychedelia, Part Two by Feuilleton on Mixcloud
Radio ad — The Trip
The Glass Family — House Of Glass (The first song on the group's only album.)
Kaleidoscope (US) — Egyptian Candy (The multi-generic multi-instrumentalists recorded a number of Middle Eastern-style pieces. This is one of the more obscure ones.)
Park Avenue Playground — The Trip (The wildest trip song of them all.)
The Red Crayola — Hurricane Fighter Plane (One of the few actual songs in the psychedelic soup of the group's first album. This version is from a compilation.)
Jefferson Airplane — White Rabbit
Tim Buckley — Hallucinations
The Chocolate Watchband — In The Past (The Savage 100 has Are You Gonna Be There (At The Love-In). This replacement is by the "fake" Watchband assembled by producer Ed Cobb to fill out a side of the group's second album. Real or fake, I always liked the song.)
Big Brother and the Holding Company — Piece Of My Heart (The Savage 100 has Ball And Chain.)
The West Coast Pop Art Experimental Band — Smell of Incense (A great song by a group who never sound as experimental as their name implies.)
The Third Bardo — Five Years Ahead Of My Time
Painted Faces — Anxious Colour
The Beau Brummels — Magic Hollow
Buffalo Springfield — Broken Arrow
The Strawberry Alarm Clock — Incense And Peppermints
Love — The Red Telephone
The Byrds — Change Is Now
Otis Redding — (Sittin' On) The Dock Of The Bay
The Balloon Farm — A Question Of Temperature
Sly & The Family Stone — Dance To The Music
Quicksilver Messenger Service — Pride Of Man
The Monkees — Porpoise Song (The Monkees at their most tripped-out. A song by Goffin & King that plays over shots of Micky Dolenz swimming with solarised mermaids during the opening of their feature film, Head.)
Previously on { feuilleton }
• Listen to the Colour of Your Dreams: Part Four
• Listen to the Colour of Your Dreams: Part Three
• Listen to the Colour of Your Dreams: Part Two
• Listen to the Colour of Your Dreams: Part One
• What Is A Happening?
• My White Bicycle
• Ogdens' Nut Gone Flake
• Tomorrow Never Knows
• The Dukes declare it's 25 O'Clock!
• A splendid time is guaranteed for all