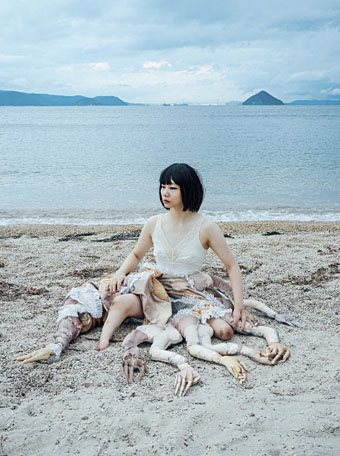 Bystander #16 (2016) by Mari Katayama.
• "In her prickly, misanthropic stories, her obsession with obsession is on display, big feelings and bad habits redirected to gruesome ends." Carmen Maria Machado on the brilliance, difficulty and eccentricities of Patricia Highsmith who was born on 19th January, 1921. This reminds me that I have an unread copy of Highsmith's The Two Faces of January that I ought to move to the reading pile.
• Saint Laurent—Summer of '21: Gaspar Noé's new promo for the fashion house features Charlotte Rampling and a group of models in a vaguely Argento-like scenario that's all crimson light, sumptuous decor and a creditable cover of I Feel Love by SebastiAn.
• I've been listening to a lot of Magma recently so this is timely: all three of the live Retrospektïw albums from 1980 gathered together for the first time in a single package and with a bonus recording.
• At Spine: Vyki Hendy collects some recent book covers that use optical illusions (or negative space) to catch the attention. Tangentially related: William Hogarth's Satire on False Perspective (1754).
• RIP David Larkin, art director at Granada and Pan who also edited one of my favourite series of art books.
• At Dennis Cooper's: Crop Encircled Boy presents…Alejandro Jodorowsky Day.
• Mix of the week: Subterraneans 1, a Bowie mix by The Ephemeral Man.
• At Wormwoodiana: A Secret Book of Ghost Stories.
• "Reality is plasticine," says Eloghosa Osunde.
• Cats On Synthesizers In Space
• Subterraneans (1993) by Philip Glass | The Subterranean (1994) by Soma | Subterranean Lakes (2018) by Pye Corner Audio