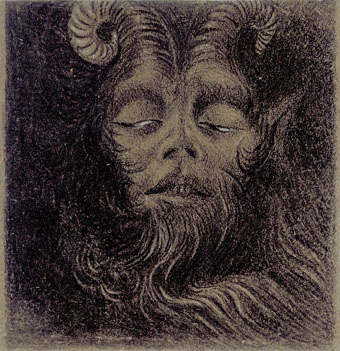 Faun (1897) by Karel Hlavacek.
• A teaser trailer for Mad God, a stop-motion animated feature by Phil Tippett. 30 years in the making and not the usual saccharine fare. The director talks about his film here.
• For those who missed Johnny Trunk's book about Sainsbury's Design Studio several years ago (or would like more of the same), packaging design at the Sainsbury Archive.
• Mixes of the week: Ces Gens-Là – Avec Bart De Paepe by David Colohan, and Phased Induction Phototaxis by The Ephemeral Man.
• Smoking dope and comparing bad reviews: Stephen Sondheim and James Lapine discuss the early days of their collaboration.
• At the cat-loving Spoon & Tamago: This cat table gives your feline a seat in the table.
• John Lurie's tales of Bohemian living with The Lounge Lizards in 1979 New York.
• Luxury assortment: the British artists behind Cadbury's chocolate boxes.
• Kevin Richard Martin's favourite albums.
• At Dennis Cooper's: Skeletons 2.
• Hymn To Pan (2008) by Blood Ceremony | The Great God Pan (2011) by Blood Ceremony | Faunus (2013) by Blood Ceremony