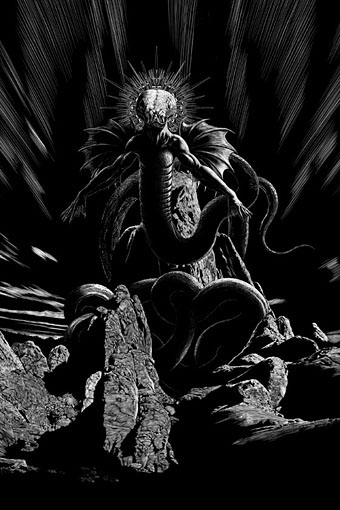 Yig for Rattled by Douglas Wynne.
Presenting one of this summer's bigger projects, these are my drawings for The Gods of HP Lovecraft, a collection of 12 all-new stories edited by Aaron French for JournalStone. After I'd begun work I was asked whether I could illustrate all 12 stories but since I was already busy with The Monstrous it wasn't possible. My drawings occupy the second half of the book, with the first half being filled out with suitable illustrations by Paul Carrick and Steve Santiago. The contents are as follows:
Call the Name by Adam LG Nevill (Cthulhu)
The Dark Gates by Martha Wells (Yog-Sothoth)
We Smoke the Northern Lights by Laird Barron (Azathoth)
Petohtalrayn by Bentley Little (Nyarlathotep)
The Doors that Never Close and the Doors that Are Always Open by David Liss (Shub-Niggurath)
The Apotheosis of a Rodeo Clown by Brett J. Talley (Tsathoggua)
Rattled by Douglas Wynne (Yig)
In Their Presence by Christopher Golden & James A. Moore (The Mi-Go)
Dream a Little Dream of Me by Jonathan Maberry (Nightgaunts)
In the Mad Mountains by Joe R. Lansdale (Elder Things)
A Dying of the Light by Rachel Caine (Great Race of Yith)
Down, Deep Down, Below the Waves by Seanan McGuire (The Deep Ones)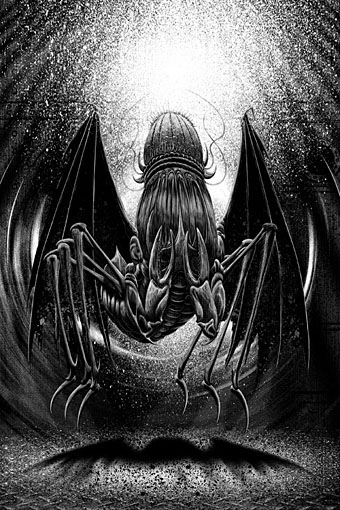 Mi-Go for In Their Presence by Christopher Golden & James A. Moore.
Despite having produced a fair amount of Lovecraft-related illlustration there's still some areas of his work that I haven't touched, especially where creature portraits are concerned. So this collection features my first attempts at rendering one of the Mi-Go and one of the Yithians from The Shadow Out of Time. The latter are often represented as fearsome monsters which always strikes me as erroneous when so much description in the story is devoted to their book reading and archive building. Aliens, yes, but monsters they are not. There was some concern when I delivered the artwork that the fine lines and detail might not print so well on paperback stock but the printing is excellent throughout. I recommend this collection for anyone in the mood for some new Lovecraftian fiction.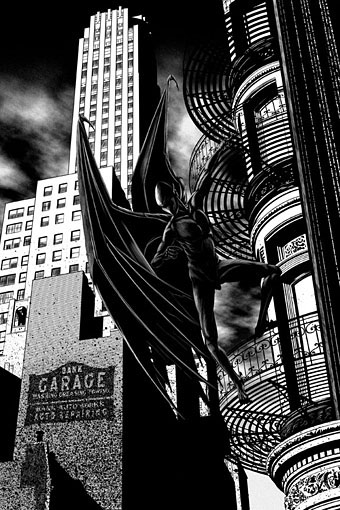 Night-Gaunt for Dream a Little Dream of Me by Jonathan Maberry.