Le Cadavre Exquis by Yukio Michishita. As featured in The Purple Book: Sensuality & Symbolism in Contemporary Art & Illustration by Angus Hyland & Angharad Lewis.
• " Like Polo's magic cities, which in the end all turn out to be Venice, fantasy finally refers us back to reality and the challenge of everyday social engagement." Jonathan Galassi on The Dreams of Italo Calvino. In the same edition of the NYRB, Anna Somers Cocks on The Coming Death of Venice?
• Mix of the week: Solid Steel Radio Show 7/6/2013 Part 3 + 4: Peter "Look Around You" Serafinowicz compiles 70 minutes of Boards of Canada-inflected ambience.
• "Magic and art tend to share a lot of the same language. They both talk about evocation, invocation, and conjuring." Alan Moore talks to Peter Bebergal.
The gay rights movement around the world has promoted a basic idea: we want to show society that we are human beings like everyone else. The problem is that the train driver at the Kashirskaya train station doesn't necessarily think that those few dozen passengers in whose face he closes the doors are a priori inferior and deserve such treatment. He feels that he becomes superior to them by means of using his power over them. This sense of superiority can be trumped only by some higher superiority.

On the Moscow Metro and Being Gay by Dmitry Kuzmin.
• "I went from being a very promising young writer to being completely ignored in two novels." Madeleine Monson-Rosen on Angela Carter.
• Sequence6, another excellent sampler from Future Sequence: 40 new pieces of music as a free download.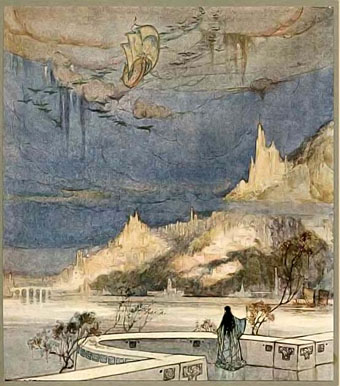 The Arrival on Mars, an illustration from The Ship That Sailed to Mars (1923) by William Timlin.
• At PingMag: An Icon for Everyone: Shoryu Hatoba, Japanese Crest Artist.
• More Japanese weirdness at Sardines Bizarres.
• Larry Nolen on Bruno Schulz.
• Magic Ritual (1976) by Black Renaissance | Magic Fly (1977) by Space | Magic Vox (1981) by Ippu-Do