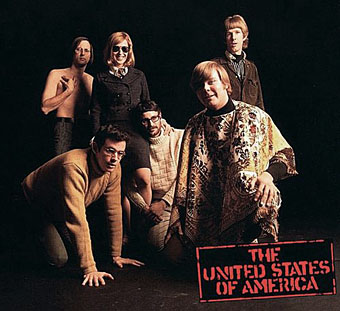 The United States of America, 1968. Back, left–right: Joseph Byrd, Dorothy Moskowitz, Gordon Marron; front, left–right: Ed Bogas, Craig Woodson, Rand Forbes.
Concluding the psychedelic mega-mix based on Jon Savage's list of "100 mind-expanding masterpieces" (see this post). The last of the six mixes is the third visit to the USA, and features songs from the years 1968 to 1969 arranged in chronological order. As before, the selections from the Savage 100 are in bold, and I've added notes about my additions or amendments.
The most notable deviation from Savage's list in this final collection is the substitution of Lothar and the Hand People for two other groups combining psychedelic music with electronic sounds, Fifty Foot Hose and The United States Of America. Lothar and the Hand People were so named because of their use of theremins; they're often described as electronic pioneers but I've never liked their music very much or thought it was as inventive as people claim. Fifty Foot Hose and The United States Of America are better on all levels, the self-titled USA album is a masterpiece that proved an inspiration for Portishead (listen to Half Day Closing) and Broadcast.
Savage ended his UK list with Can't Find My Way Home, a song that captured the come-down feeling after the psych fireworks were over. The US list lacked an equivalent resolution, hence the choice of Wooden Ships; where Blind Faith's lament is a personal one, Jefferson Airplane offer something more global, a pessimistic vision of the future that you can tie to all the other crashing dreams of 1969. It's also a great song, and a fitting way to bring everything to a close.
US Psychedelia, Part Three by Feuilleton on Mixcloud
Radio news — Grateful Dead drug bust
The Grateful Dead — That's It For The Other One
Nazz — Open My Eyes (The first single by a band with Todd Rundgren on guitar, and another song from the original Nuggets collection.)
Iron Butterfly — In-A-Gadda-Da-Vida
Fifty Foot Hose — If Not This Time (One of several songs whose unusual chord progressions—some of them inspired by Schoenberg—set them apart from their contemporaries.)
Steppenwolf — Magic Carpet Ride
The Steve Miller Band — Song For Our Ancestors
The United States Of America — The Garden Of Earthly Delights (A paean to poisonous love with a title borrowed from Bosch.)
Tommy James And The Shondells — Crimson And Clover
White Lightning — William
Spirit — Dream Within A Dream
Skip Spence — War In Peace
The Youngbloods — Darkness, Darkness
Kak — Electric Sailor
Kaleidoscope (US) — Lie To Me (A last nod to the psychedelic sound from an album very aptly entitled Incredible!)
The Grateful Dead — Mountains Of The Moon
Jimi Hendrix — The Star Spangled Banner
Jefferson Airplane — Wooden Ships
Previously on { feuilleton }
• Listen to the Colour of Your Dreams: Part Five
• Listen to the Colour of Your Dreams: Part Four
• Listen to the Colour of Your Dreams: Part Three
• Listen to the Colour of Your Dreams: Part Two
• Listen to the Colour of Your Dreams: Part One
• What Is A Happening?
• My White Bicycle
• Ogdens' Nut Gone Flake
• Tomorrow Never Knows
• The Dukes declare it's 25 O'Clock!
• A splendid time is guaranteed for all