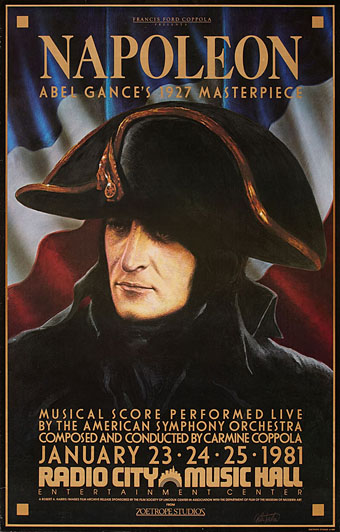 Painting by Alex Tavoularis.
• There are silent films, and then there is Abel Gance's Napoleon (1927), a five-and-a-half hour historical drama following the emperor's life from boyhood to the invasion of Italy. The word "epic" is overused but Gance's film demands the description: in addition to the recreation of huge battles and scenes from the French Revolution, cinema screening required three projectors for sequences which are either multi-screen or three times the width of the Academy ratio. The film was revived in the early 1980s after an extensive restoration by Kevin Brownlow, but Napoleon is still more talked about than seen so news of a forthcoming digital release by the BFI is very welcome indeed. The poster above is from this collection which includes more information about the film and its troubled history. Related: a trailer for a 2012 screening at the San Francisco Silent Film Festival.
• "His films broke with traditional production methods, having virtually no shooting script and capturing the freshness of their genesis." RIP Jacques Rivette. In 1998 Frédéric Bonnaud talked to Rivette about the director's cinematic likes and dislikes. Elsewhere, Jonathan Romney speculates that Rivette's Céline and Julie Go Boating (1974) "might be the only film in which the story is dreamed by a passing cat".
• Strange Flowers' selects 16 books for (what's left of) 2016. Stand-out for me is Aubrey Beardsley: A Catalogue Raisonné by Linda Gertner Zatlin which will be published in May. Two cased volumes, a total of 1104 pages, and a price tag of $300.
It's a powerful trope, but it also risks trading one stigma for another: ''Phobia'' is now so embedded in our language that it's easy to forget that it is a metaphor comparing bigots to the mentally ill. The comparison also has the effect of excusing those Americans—like certain presidential candidates in the 2016 race—who wield prejudices strategically. It's not your fault if you get sick. But hating people is a choice.

Amanda Hess on how "-phobic" became a weapon in the identity wars
• Delving into the shadowy world of occult art: Priscilla Frank talks to Pam Grossman about her Language of the Birds exhibition. Related: "The occult never quite goes away," says Kenneth Anger.
• "It was a magic day in our happy, young lives." A proposal for a monument in Baltimore celebrating the final scene of John Waters' Pink Flamingos.
• Mixes of the week: Wrap Up Warm Mix by Moon Wiring Club, Secret Thirteen Mix 175 by Inner8, and FACT mix 533 by Roly Porter.
• "He was less an architect than a Busby Berkeley with a penchant for Black Masses." Jonathan Meades on Albert Speer.
• More film posters: Benjamin Lee on the compromises that have made contemporary posters "drab and uninspiring".
• The vast and ghostly landscape of "Britain's only desert": photographs by Robert Walker.
• Wyrd Daze, Lvl2 Issue 5, is free and brimming with the weird.
• The films of Michael Mann in 44 shots.
• Laurie Anderson's favourite films.
• Flamingo (1959) by Henry Mancini | Moon Occults The Sun (2006) by Espers | The Moon Occults Saturn at Dawn (2015) by Steve Moore