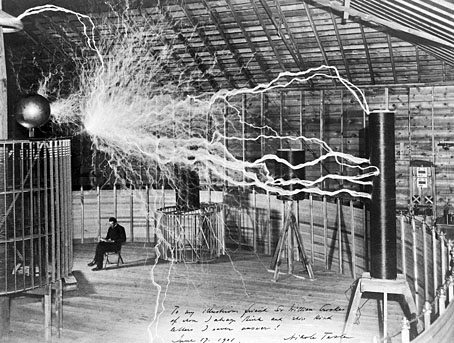 Tesla does the Astro. Hunter Dukes at Public Domain Review examines the promotion of Nikola Tesla's ideas via this famous photograph.
• Coming soon from Side Real Press: Kokain—The Modern Revue, a magazine produced in Vienna that ran for five issues during 1925. "Original copies are so rare that it scarcely appears in any of the literature relating to the Weimar period and its contents have remained almost entirely ignored and certainly untranslated. Until now."
• "Magritte had gotten this far in life by refusing to obey anyone, and in a way his disobedience proved that he understood Surrealism better than the leader of the Surrealists." Jackson Arn reviewing Magritte: A Life by Alex Danchev.
• "Go as far into your dream as possible and find your own unique voice." Meredith Monk (again) talking to Elizabeth Aubrey.
• Coming soon from Strange Attractor: City of the Beast: The London of Aleister Crowley by Phil Baker.
• At Spoon & Tamago: The natural world springs to life in kirie paintings by Tamami Kubota.
• Antonia Mufarech on why sunflowers are Ukraine's national flower.
• At Dennis Cooper's: Etienne-Louis Boullée's unbuildable tombs.
• Mix of the week: I Can't Go For That by The Ephemeral Man.
• New music: Triumph Of The Oak by The Lord.
• RIP Philip Jeck.
• Tesla (1997) by Jimi Tenor | Tesla (2011) by They Might Be Giants | Tesla Coil (2016) by Xhei