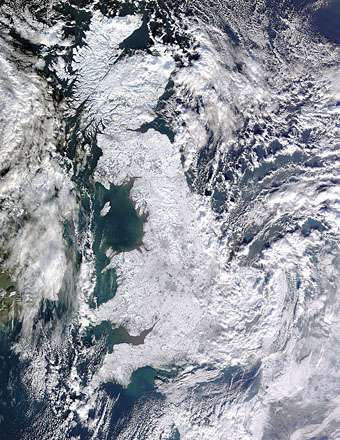 A satellite view of snow across Great Britain on January 7, 2010.
Walking the snow-laden streets this week felt like a considerable novelty when we rarely have snowfalls of any depth here and what there is never lasts much longer than a day. The current low temperatures which began just before Christmas may be inducing a national trauma but the genuinely wintery weather makes a change from the dreary weeks of rain and cold which usually prevail until April.
Whilst trudging through the crusted ice I found myself remembering favourite films which make the most of winter landscapes. Here's a short list to follow the earlier winter-themed posts.
McCabe & Mrs Miller (1971)
Several Westerns before this one had featured winter scenes but I think Robert Altman's was the first to be set at the height of winter in a snowbound town. Memorable for Vilmos Zsigmond's photography, Leonard Cohen's lugubrious songs, Warren Beatty's doomed businessman stomping around wrapped in furs muttering "Pain, pain, pain!", and the finale when he's hunted down by a trio of assassins.
The Shining (1980)
Has anyone not seen this film? Despite the artificial snow, Kubrick's direction and John Alcott's photography communicate authentic chills, both meteorological and metaphysical.
Yes, it's a genuine Christmas postcard from Oregon's Timberline Lodge which became the model for Kubrick's Overlook Hotel. Writer Tom Veitch sent me this some years ago.
The Thing (1982)
John Carpenter's grisly Antarctic horror is the film I still find to be his best. Like his earlier Assault on Precinct 13, this is another siege situation borrowed from Howard Hawks only this time the enemy is within. Until someone films At the Mountains of Madness, this is the closest you'll get to Lovecraft's polar nightmares.
Runaway Train (1985)
Few people know this: escaped convicts Jon Voight and Eric Roberts find themselves on the titular train with rail worker Rebecca De Mornay, and it's a long ride through frozen landscapes as they try to escape the law and the train itself before it crashes. Andrei Konchalovsky directs a story by Akira Kurosawa rewritten by Edward Bunker (who has a cameo) and others. The result is a strange blend of hardboiled drama and existential symbolism with a great score by Trevor Jones.
Fargo (1996)
One of the Coen Brothers' best. Watching this again over Christmas along with many of their other films, it was amusing to see Steve Buscemi transform from Fargo's vicious and splenetic kidnapper to the mild-mannered character he plays in The Big Lebowski. Despite the statement at the beginning of the film, Fargo isn't a true story but its existence became tangled with some curious real-life events.?
Update: I was reminded on Twitter about Altman's bizarre future Ice Age drama, Quintet, which I should have mentioned above. Not as successful as the earlier film but its setting certainly suits the weather.
Previously on { feuilleton }
• Bruegel in winter
• Winter panoramas
• Winter music
• Winter light
• Kubrick shirts
• At the Mountains of Madness
• Images by Robert Altman