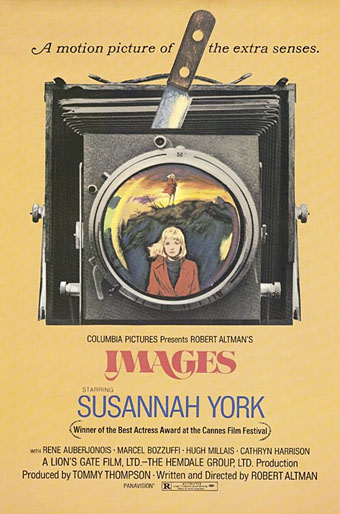 It's taken a while but the DVD format has slowly followed the CD with the reissue of obscure works that have been out of circulation for far too long. Robert Altman's blandly-titled Images has been on my "When The Hell Will I See That Again?" list for about 25 years, having been shown a couple of times on TV in the UK before vanishing into the cinematic ether. It's been out on DVD (Region 1 only) for a few years now but it's taken me this long to see it again. In a way the film's elusiveness suits a drama concerned with hallucinations.
Altman made Images in 1972 between two films that received far more attention and acclaim, the eccentric Western, McCabe and Mrs Miller and his Raymond Chandler update, The Long Goodbye. Images seems to have been poorly-received at the time although Susannah York deservedly won a best actress award at Cannes. Today it comes across as a minor exercise in mastery of the medium equivalent to Francis Coppola's deft delivery of The Conversation between Godfathers 1 and 2. And, like The Conversation, it's only "minor" because of the scale of Altman's other achievements. For many directors this would be a career peak.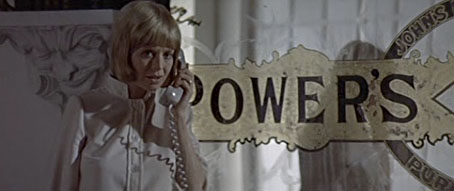 Images is a kind of Altmanesque riposte to Roman Polanki's Repulsion. Both films concern women having trouble with the men in their lives which may or may not be the cause of a mental breakdown which becomes progressively worse throughout the film. Polanski's take on this far is more overt, with Catherine Deneuve already withdrawn from the world at the outset. Susannah York's character, Cathryn, is a children's writer who seems at first to be relatively stable until her life is increasingly intruded upon by the ghost of a former (dead) lover and other hallucinations from her past. This is played out in and around a cottage in a spectacular part of Ireland where she's staying with her husband. Most of Altman's films go for laughs even when the subject matter is inherently serious. Images, along with a handful of his other works, has no leavening humour at all and, like Repulsion, crosses into all-out horror at times. Unfortunately this makes it difficult to discuss without spoiling the film's many surprises.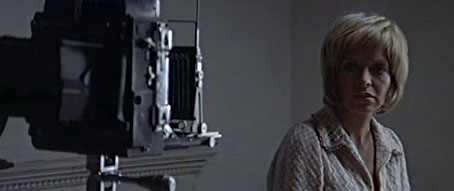 Seeing this again was essentially like seeing it for the first time, not least because it's a widescreen film that I only ever saw on TV in an inferior pan-and-scan version. The photography was by Vilmos Zsigmond, one of the great cinematographers of the 1970s and Altman's favourite cameraman at that time. The production design is filled with mirrors, glass and wind-chimes, all of which complement Cathryn's brittle mental state and which continually catch her in their reflections. The music by a pre-bombast John Williams is very good and is superbly augmented by Stomu Yamash'ta whose percussion ensemble is credited with the unnerving "sounds" which contribute so much to the atmosphere. Susannah York's performance is excellent and serves as a reminder of what a great actress she was, frequently making the most of difficult roles in films such as The Killing of Sister George, The Maids or The Shout.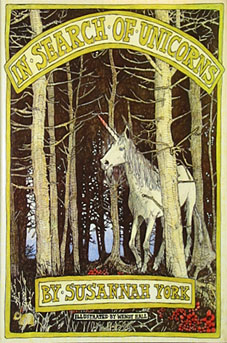 The screenplay for Images was all Altman's work apart from Cathryn's voiceovers where she reads (or writes in her head) parts of her novel. These were extracts from a real fantasy book for children, In Search of Unicorns, written by the actress, one of two she wrote in the 1970s. Those extracts add to the verisimilitude as well as being sufficiently naive and otherworldly to contrast with the very adult events being shown on the screen.
So I can finally tick this one off the list although I now have an urge to see Altman's curious and not altogether successful science fiction film, Quintet. No. 1 on the "When The Hell Will I See That Again?" list remains Deep End from 1971, the first British film by Jerzy Skolimowski who later made The Shout. According to a recent Sight & Sound feature the film is caught in some legal limbo so I could still be in for a long wait.
Previously on { feuilleton }
• Robert Altman, 1925–2006