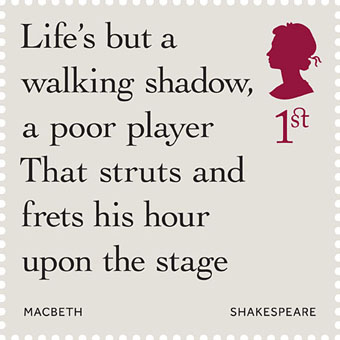 One of ten new stamps designed by The Chase for the Royal Mail's Shakespeare celebrations.
• "I basically had this problem with bombast and intensity. And I started to feel like it was a nuclear arms race." Tim Hecker talking to Rick Moody about loud sounds, Icelandic elves and Minimalism. Hecker's new album, Love Streams, features contributions from Ben Frost and Jóhann Jóhannsson.
• "He joked in a letter to Edmund Wilson that he had 'managed to get into Harvard with a butterfly as my sole backer.'" Laura Marsh on Nabokov the lepidopterist.
• The brutal musical legacy of JG Ballard by Tim Noakes. Ballard's own musical taste, as revealed in his choice for Desert Island Discs, was mostly nostalgic.
One outcome of this sense that homosexual people existed in large numbers while still remaining more or less invisible to the naked eye was the suspicion that when they got together they were likely to engage in something more, something even worse than the indulging of a perversion. Notoriously, the networks of homosexuality seemed to transcend many more formal social and political boundaries, reifying crossovers not only between national and ethnic cultures, but between high society and the demi-mondes of bohemian artists, and so forth. The Homintern certainly helped cross-fertilise the arts.

Gregory Woods on the gay artists and writers who changed the world
• Mixes of the week: FACT Mix 544 by Tim Gane, Abs's Cornerhouse Classics by Abigail Ward, and Secret Thirteen Mix 181 by Broken Bone.
• I Can't Give Everything Away: Jonathan Barnbrook's text-and graphics video for the song by David Bowie.
• "Chernobyl is spooky, in the manner of all disowned places." Simon Parkin enters the Zone.
• Osman Ahmed on why Doreen Valiente is "the mother of modern witchcraft".
• The camera obscura art of Abelardo Morell.
• An oral history of Taxi Driver.
• RIP Tony Conrad
• Lady Macbeth (1972) by Third Ear Band | In The Back Of A Taxi (1984) by Penguin Cafe Orchestra | Butterfly Mornings (2001) by Hope Sandoval & The Warm Vibrations